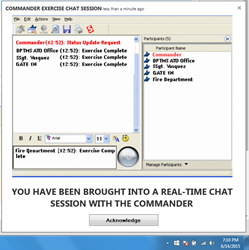 "When lives are at stake, seconds count" " said Howard Ryan CEO Desktop Alert Inc.
(PRWEB) June 15, 2015
Today Desktop Alert Inc. announced the company has incorporated real-time instant messaging as an additional alerting capability during an emergent event.
The Desktop Alert chat module application enables real-time bi-directional communication with targeted recipients who are all authenticated into an on-the-fly instant messaging roster session. Operators and recipients can quickly communicate, coordinate, and collaborate without the latency inherent in legacy mass notification systems which only allow recipients to select operator provided response options or a textbox replies that takes several minutes to propagate back to the alert publisher.
"When lives are at stake, seconds count" " said Howard Ryan CEO Desktop Alert Inc.
"Emergencies are dynamic and unique. Rapid bi-directional communication is essential to protecting lives and securing assets. Mass notification systems that rely on outdated latency based operator defined response options either fail to capture the true status of the recipient or take multiple alerts to essentially "poll" recipients to understand their status and immediate needs. With the Desktop Alert instant messaging module, operators and recipients can communicate and share time-critical life-safety information within the actual desktop alert popup real-time. This is of particular importance since most active shooter incidents only last between 8 and 13 minutes. " Ryan added.
The Desktop Alert CHAT module is built on XMPP technology (formerly known as Jabber) and is available to customers for both on premise and cloud-based implementations. The addition of Desktop Alert real-time chat technology does not require any new software installation and functions with all customers who have a Desktop Alert client version of 5.1 or greater.
About Desktop Alert Inc. http://www.desktopalert.net
Desktop Alert provides an array of end-point integration's with customers public address systems (Giant Voice), intercom systems, commanders channels, e-mail platforms, DSN-based and cloud-based telephony and sms message systems, network desktop alert popups, national weather service zip code based alerts, digital signage, cable tv, numerous social media systems, CAP server alert, external system sensors such as temperature devices and fire alarm systems.