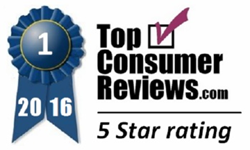 We gladly award Amazing Clubs our top rating for Dessert Club memberships in 2016.
Overland Park, KS (PRWEB) June 29, 2016
TopConsumerReviews.com recently awarded their highest five-star rating to Amazing Clubs, an industry leader in Dessert Club memberships.
Creative gift-giving can be challenging. From trying to find something for that person who has everything, to giving a gift that will truly stand out for business associate, club memberships are unique and appreciated gifts. Dessert Clubs are one of the most popular ways to add variety and taste to any gift-giving occasion, and they open up new avenues of choice, selection, and satisfaction to gift-givers worldwide.
"As one of the largest club providers on the market, Amazing Clubs has a proven track record of providing quality Dessert Club memberships," explained Brian Dolezal, of TopConsumerReviews.com, LLC. "Customers can choose from 3-month, 6-month, quarterly, or year-long plans, and payment options allow them to pay as deliveries are made or with a one-time payment. Across the board, customers have been extremely pleased with the variety of desserts included in each membership, the free shipping, and the attention to detail in the packaging that ensures that the treats arrive fresh and in good condition. We gladly award Amazing Clubs our top rating for Dessert Club memberships in 2016."
To find out more about Amazing Clubs and other Dessert Club memberships, including reviews and comparison ratings, please visit the Dessert Club category of TopConsumerReviews.com at http://www.topconsumerreviews.com/dessert-clubs/.
About Amazing Clubs
Amazing Clubs was founded in 2003 and began with the mission of bringing its members the most exclusive and highest-quality gourmet items available anywhere. Initially beginning with a single club, Amazing Clubs rapidly expanded to include more than three dozen clubs ranging from bacon to wine. Amazing Clubs currently has offices in three states and two countries, and is proud to have served more than one million happy customers.
About TopConsumerReviews.com
TopConsumerReviews.com, LLC is a leading provider of independent reviews and rankings of hundreds of consumer products and services. From Dessert Clubs to Jewelry Stores and Passport Agencies, TopConsumerReviews.com delivers in-depth product evaluations in order to make purchasing decisions easier.