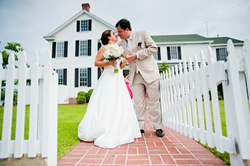 While you're busy with your family, working, and social plans, we are busy working for you on your wedding plans.
Manteo, NC (PRWEB) November 30, 2014
Traveling from Florida, Virginia, New York, Colorado, California, and beyond, brides and grooms come from all over the country to have the wedding of their dreams on the Outer Banks of North Carolina. Wedding planner Christy Ethridge of Socially Serene Events has compiled the top 10 perks of choosing an all-inclusive wedding package.
Here are the Top 10 perks that you can benefit from:
1. One-Stop-Shop
All-Inclusive wedding packages are designed to provide all of the key items and essential vendor services necessary for the wedding day. Each couple has their own set of needs, which are unique to them. Therefore, all packages include a variety of wedding services that can be tailored to fit specific needs.
2. One Price
Sometimes the sight of multiple dollar signs can be overwhelming and cause anxiety for many couples planning their wedding. Staying within budget and trying to prioritize is not an easy task. But with an all-inclusive wedding package you don't have to worry about the hassle of managing the budget of your wedding package and submitting individual payments to 10 different vendors. With this package you pay one price and your wedding planner submits all of your vendor payments on your behalf.
3. Easy Payment Plan
Pricing for packages includes taxes, catering service charges, delivery fees, setup fees, labor, and travel fees. There are no additional fees or hidden costs. We make it easy for you to pay for your package with 3 easy payments of an initial deposit to secure your date, an additional payment of 50% of your balance due half way through your planning period, and a final payment due 30 days prior to your wedding date.
4. Great Deal
We have done all the research for you and we partner with your wedding vendors to provide their services at the most economical price to you. These savings are passed on directly to you without any commissions, finder's fees or up charges.
5. Time Saver
We understand that everyone has a life and adding wedding planning on top of your busy schedule may be quite a time constraint for you. With our all-inclusive wedding package you don't have to spend countless hours of researching each individual vendor service yourself. We have done all of this hard work for you and we've narrowed down your choices to help you make the best decisions for your wedding day. In addition, we can make recommendations for additional services you may need such as accommodations, transportation, and things to do. While you're busy with your family, working, and social plans, we are busy working for you on your wedding plans.
6. Exclusive Availability
Your wedding day is exclusive. We only book one wedding per day and our team is solely available to you throughout the day. In addition to all of the tasks within our scope of services, we are available to assist with any last-minute errands that arise pertaining to wedding day tasks. Our team is the first to arrive at your event venue and we are the last to leave on your wedding night.
7. Services of a Certified Event Planner
Christy Ethridge with Socially Serene Events earned her certification in event planning in 2007. She was enrolled in one of the top 20 hospitality programs in the U.S. She has 8 years of experience in planning and coordinating special events. Additionally, she has dedicated her career to destination wedding planning for the past 3 years. She has previous involvement in planning all types of events ranging from catering management, corporate events, destination management, festivals, corporate incentive travel management, resort meetings, and special events. With this vast knowledge of the event industry, she can provide expert wedding planning advice in multiple areas such as group accommodations, catering, and logistics.
8. Local Knowledge
We know all about the prime locations for weddings in the Outer Banks, the perfect time to schedule your ceremony, the most ideal weather conditions for weddings in the Outer Banks, and the best contingency plans for inclement weather. We have local knowledge about factors, which could impact your event that you may not know about as a client who resides out of town.
9. Easy Communication
We are readily available via e-mail, live chat, Skype, and texting. Regardless of your time zone, we strive to be as flexible as possible to make your wedding planning fit into your schedule.
10. Preferred Vendors
Nothing less than first-class service is expected on your wedding day. We provide all of our guests with southern hospitality and a genuine care and concern for their wishes. We have an expectation that the vendors you choose to partner with for your wedding share this commitment to you as the client. We are very particular about who we partner with and we only recommend vendors who have our full confidence. All of our preferred vendors are professional and reliable.
For more information about all-inclusive packages or planning Outer Banks weddings, contact Christy Ethridge at Socially Serene Events, 252-202-9072 or visit http://www.sociallysereneevents.com. Complimentary consultations are always provided.