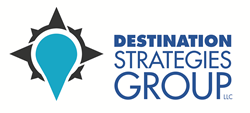 If this show can better inform the community-at-large, wherever that community is, about the incredibly positive impacts travel and hospitality have as an economic driver, then I believe a huge objective will have been achieved.
CHARLOTTESVILLE, Va. (PRWEB) November 27, 2020
Destination Strategies Group, LLC is pleased to announce that it has teamed up with Monticello Media/WCHV for the successful launch of a new talk-radio program, "Destinations. Passport to travel & hospitality."
The 60-minute weekly show airs Sundays at 11:00 a.m. Eastern Time from the WCHV studio in Charlottesville, Virginia, on 107.5 FM/1260 AM, and will be available through Live Stream and on iTunes and Google Play by downloading the WCHV App, "Cville 1075".
"Destinations. Passport to travel & hospitality" is hosted by tourism industry veteran, Kurt Burkhart, founder and managing consultant for Destination Strategies Group, LLC.
"Our goal with this show," said Burkhart, "is to provide industry insights from tourism professionals, as well as to be a catalyst to help inspire your next travel adventure. We'll do that by providing some current travel trends, as well as offering tips for the experienced traveler and those who are just getting started."
Burkhart formerly led destination marketing organizations in Charlottesville, Virginia; Carlsbad, California;  Flagstaff, Arizona, and served as special assistant for tourism & trade to the governor of the U.S. Commonwealth of the Northern Mariana Islands on Saipan.
WCHV station manager and morning talk show host, Joe Thomas, said, "We are fortunate to have someone with Kurt's knowledge, experience and reach into an industry that is so vitally important to our community and to so many other communities throughout the country." 
As the show's creator and host, Burkhart, said, "Over the years I've listened to lots of podcasts, Internet talk radio, and watched even more YouTube videos in which many facets of tourism have been presented.  Most of these programs have focused on singular topics, but "Destinations. Passport to travel & hospitality" will feature thought leaders and tourism professionals, discussing a wide array of topics about the travel and hospitality industry, current and emerging trends and technologies."
Weekly Guests and "Team" Contributors
In addition to invited guests, the show will include regular 'team" contributors from some of the most respected sources in the industry, including Simpleview, Hotel Guru, Destination Analysts, Tripadvisor, and Entrada Insights.
"Since there is incredible talent in the tourism industry," Burkhart said, "I felt compelled to create a show that, in addition to a featured guest, would include some of the best minds in the business, all of whom have been recognized by their peers for outstanding achievement."
The show's inaugural "Guest of the Week" on November 15 was David Bratton, founder and managing partner of Destination Analysts, Inc., a San Francisco-based research and analytics firm Bratton and partner, Erin Francis-Cummings, its President & CEO founded in 2003.
Bratton didn't miss a beat when asked if he would like to be part of the show's rollout, and offered his thoughts; "It's been said that confidence is contagious, and so is a lack of confidence. The pandemic has been a confidence killer on every level, from the traveler to the destination marketing board room.  Never has clear, accurate and unbiased insight into what is really happening in the marketplace been more important. This show will be a very welcome addition to the critical conversations going on now in our industry. It can't start soon enough."
Listeners will continue to hear Bratton in the weeks that follow, as he now shifts from the "Guest" chair and joins the team as a contributor, providing a recap and highlights to Destination Analysts' weekly "Coronavirus Travel Sentiment Index."
Ryan George, Simpleview CEO said, "I've known Kurt for the entirety of my 20 year professional career. We've done a lot of great work together in tourism promotion over the years, but the thing I have enjoyed most has been comparing notes regarding the travel industry's relation to the socio-cultural norms, environmental factors, local economies and political issues within our country. I look forward to creating new conversations and to sharing ideas with Kurt, the brain trust that he's collected and the listeners of his new program."
George slipped into the "Guest" chair on the second week and discussed how Artificial Intelligence helps Destination Marketing Organizations personalize the visitor experience.
Joining the show this Sunday is Bill Geist, CEO & "Chief Instigator" for DMOproz. Burkhart will dig deep with Geist to discuss the recently released white paper by DMOproz, "A New Vision for Achieving Community Success, Growth and Sustainability." Justin Kerns from the Winchester-Frederick County (VA) Convention and Visitors Bureau will talk about their newest marketing campaign to lure visitors to "Discover Winchester."
"While the pandemic has created great difficulty for many, the travel and hospitality industry has been working hard to reposition itself for a rebound, and by sharing stories from those who have maneuvered through these difficult times, as well as insights into traveler behavior and trends affecting travel, we hope to deliver to listeners a show that resonates," Burkhart said.
Robert Rauch, nationally known within the hospitality industry as the "Hotel Guru," joins the list of team contributors, and has provided commentary on the "Preliminary 2021 Lodging Industry Forecast," and the pending initial public offering by airbnb on the first two shows.
Also accepting Burkhart's invitation to join the show as contributor is Steve Paganelli, Group Head of Destination Marketing at Tripadvisor.  Paganelli, with more than twenty-six years in the tourism industry, said, "Today's cities are being built by their tourism brand – the social conversations they drive, the sense of place their tourism assets generate. This year has also made more evident the very broad impacts that travel has on the places we call home and this show comes at just the right time as we look optimistically ahead to recovery."
Burkhart's former tourism industry colleague from the Commonwealth of Virginia, Esra Calvert, joins the "team" as Chief Data Adviser for Entrada Insights, to share her insights on how improved data intelligence helps empower DMOs in the decisions they make.
Returning to the Microphone
This is not be the first time for Burkhart behind the mic.  From 1992-93, he worked the weekend shift on Power99, part of the Sorenson Pacific Broadcasting, Inc. in Guam and the Northern Mariana Islands.  
 
"Those were pre-Internet days, when you had to really be resourceful with what you had, knowing that in a small, but highly competitive market, ratings mattered," he said. 
"I really enjoyed creating a show on Saipan that entertained listeners, but when I was temporarily assigned to the governor's public information office, I had to bid farewell as 'The Shaman,' my radio persona."
Burkhart believes this show is a perfect complement to the years he served as spokesman for a governor and three destination marketing organizations. "The cornerstone of the travel and hospitality industry is personalization, authentic to the core, in which relationships are established, strengthened and cherished. That's why so many who have worked decades in this industry are so passionate about what they do." 
Driving Revenue
Radio programming is highly dependent on advertising revenue.  And, in the current economic climate, extra dollars for marketing by destinations, businesses and attractions are in short supply.  However, Burkhart notes; "There are destinations and businesses within those communities that have received CARES Act funding, which has helped extend messaging to prospective visitors. This has been a lifeline to those who were fortunate to receive this and other funding assistance."
Since the pandemic erupted earlier this year, Burkhart has seen the generosity of many to assist an industry that's literally been on-the-ropes. "Content will be king, and at this juncture, it is more important to provide the industry with a broadcast voice that speaks for travel and hospitality. The revenue will eventually follow," Burkhart believes.  
Looking Ahead
Those who know Burkhart, know this about him: He's entirely committed to whatever he sets his sights on, and that's why no one was surprised when he began sharing with friends, early this year, the concept of a talk-radio show that is entirely devoted to travel and hospitality. 
"If this show can better inform the community-at-large, wherever that community is, about the incredibly positive impacts travel and hospitality have as an economic driver, then I believe a huge objective will have been achieved," he said.
"While I have had early discussions about syndication, it's a bit too early to do so," said Burkhart. "Syndication is a significant step-up. The goal has always been to have this talk-radio show run in multiple markets. We have those connections already in place for when its time to take that next step." 
###
For more information about Destination Strategies Group, LLC
http://www.destinationstrategiesgroup.com
To learn more about, "Destinations. Passport to travel & hospitality"
http://www.destinationstalkradio.com
Find out more about WCHV
http://www.wchv.com