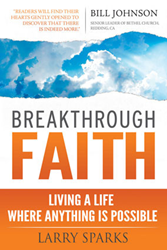 Equips you with practical, yet powerful keys on how to exercise your faith and walk in the miraculous as a lifestyle.
Shippensburg, PA (PRWEB) October 16, 2014
The same faith that makes a person a Christian also empowers them to live a victorious life… and their faith is the key to their breakthrough. Author Larry Sparks will help activate breakthrough faith and help others to start living a life today where anything is possible!
In "Breakthrough Faith," discover how to activate the God-given faith already inside and take hold of destiny. Get ready to believe God for the impossible to overcome life's roadblocks and obstacles and unlock the true desires of the heart. Experience a life of victory as you reposition yourself for breakthrough faith…everyday!
The foreword, written by Jack Taylor of Dimension Ministries, states, "The reading of this book is apt to bring us into untold and unimagined levels of increasing faith and quality ministry. The faith we seek is God's faith, not ours."
"'Breakthrough Faith' is clearly written from a pure heart and a compassionate desire to bring the reader into more of God. Whether hungry for revival or wondering if God's Holy Spirit is still being poured out today, readers will find their hearts gently opened to discover that there is indeed more. Larry has done a great job of laying out how to come into "greater works" and see God bring breakthrough faith to operate in and through our lives." — Bill Johnson, Senior Leader of Bethel Church, Redding, California
"Larry Sparks's new book 'Breakthrough Faith' is a powerful book. He provides a solid biblical basis for the activation of faith and how to sustain it. He helps the reader come to an understanding of the faith God has already given them in salvation...We don't need to get more faith; it's discovering what we have already received and to start putting it to work." — Dr. Randy Clark, Founder and President, Global Awakening
"The Christian life cannot exist without a tenacious faith! 'Breakthrough Faith' captures the lifestyle of audacious faith so well and inspires us to never settle until we see the miraculous invade our lives." — Karen Wheaton, founder and senior leader, The Ramp
"A powerful book that equips the saints to embrace the faith they have in them. This book will encourage you to break through to victory in your life. " – Tom Mullins, Founding Pastor, Christ Fellowship Church
"Equips you with practical, yet powerful keys on how to exercise your faith and walk in the miraculous as a lifestyle." – Dr. Roberts Liardon, Bestselling Author of "God's Generals"
"Gives you the tools to become victorious in your faith as you walk through the battles of life. Essential for both those new to the faith and mature in Christ. " – Chauncey Crandall M.D., Evangelist, Christ For All Nations
Interviews, review copies and giveaway copies are available upon request.
Larry Sparks is a conference speaker, popular blogger, columnist, and host of the weekly radio program, "Voice of Destiny". Featured in Charisma Magazine and on CBN's "Spiritual Gifts Webcast", he is also founder of Equip Culture—a ministry that equips believers with the tools and resources to live victoriously through the power of God.
Destiny Image, located in Shippensburg, Pa, was founded in 1983 by Pastor Don Nori, Sr. It seeks to accurately represent authors who have a call to share God's present word to His people and to make these authors easily accessible to the Christian body around the world in every form of media possible.
FOR PRESS INQUIRIES, INTERVIEWS AND REVIEW COPIES:
Brad Herman
(719) 439-4960
bherman(at)norimediagroup(dot)com