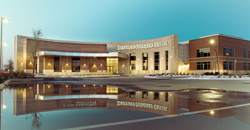 The inspectors were impressed with the Destiny staff for their dedication to excellence, devotion to the outcome of the patient, and adherence to safety protocols.
Frisco, TX (PRWEB) July 28, 2015
In an article on the Frisco surgery center's site entitled, "Destiny Surgery Center Achieves Ambulatory Health Care Certification," the team at Destiny Surgery Center discusses the importance of the certification with the AAAHC, the history and importance of the organization, and the rigorous certification process the center had to undergo to achieve certification.
Status as an accredited organization means the Destiny Surgery Center has met nationally recognized standards for the provision of quality health care set by Accreditation Association for Ambulatory Health Care. More than 6,000 ambulatory health care organizations across the United States are accredited by AAAHC. Not all ambulatory health care organizations seek accreditation; not all that undergo the rigorous on-site survey process are granted accreditation.
"Kim Bariatric Institute is very proud to be associated with Destiny Surgery Center and congratulates the staff for accomplishing the highest level of certification, the AAAHC level of distinction," stated Dr. David Kim of the Kim Bariatric Institute. "This distinction is awarded only to the best of surgery centers which undergo a rigorous two-day inspection 'under a microscope' with auditors who either reward or reject operating facilities based on several factors including safety and patient satisfaction."
Ambulatory health care organizations seeking accreditation by AAAHC undergo an extensive self-assessment and on-site survey by AAAHC expert surveyors – physicians, nurses, and administrators who are actively involved in ambulatory health care. The survey is consultative and educational, presenting best practices to help an organization improve its care and services.
"The inspectors were impressed with the Destiny staff for their dedication to excellence, devotion to the outcome of the patient, and adherence to safety protocols. They gave the highest of marks for the self-motivated nature of the nursing staff, the staff's level of experience, and the team work exhibited by the nurses while helping the patient through the surgery process and recovery," said Dr. Kim.
Destiny Surgery Center is a state-of-the-art outpatient facility in Frisco specifically designed to provide high quality surgical care to patients seeking specialty surgeries. Destiny specializes in abdominal surgery, in particular, bariatric surgery. Destiny opened in February 2015 with an experienced nursing staff, many who have devoted themselves to the nursing profession for over 20 years. This relates to an amazing patient-nurse experience when post-op patients need it the most. Every member of our team at Destiny Surgery Center undergoes a rigorous credentialing process to ensure they meet our standards for experience and teamwork and our surgeons are leaders in their respective fields, focused on improving the lives of their patients. Our patients will receive individualized care rarely found in a hospital setting.
Destiny Surgery Center is conveniently located on Dallas Parkway in Frisco, just 25 minutes from the Dallas/Fort Worth International Airport.
###