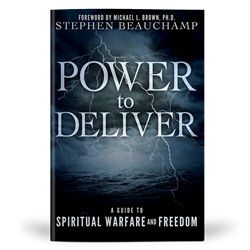 A simple, ministerial approach to helping people regain spiritual health and wholeness.
Shippensburg, PA (PRWEB) June 30, 2015
"Behold, I give you power…"
Jesus has given Christian power and authority over the works of darkness! Every Christian has been called to help set the captives free and to live a life of breakthrough as they release God's power to deliver others who remain in bondage.
So why don't more Christians experience victory?
Stephen Beauchamp provides practical and scriptural tools for every Christian who wants to grow in their knowledge of the spiritual realm and overcome spiritual attacks from the enemy. "Power to Deliver" removes the confusion surrounding the topic of deliverance ministry and shows you how to help others experience the delivering power of God in the midst of spiritual warfare.
Beauchamp equips his readers to recognize the schemes of the enemy; discern and confront different levels of demonic influence; walk in the freedom of your true identity, and the power of the Holy Spirit; help others receive freedom from spiritual oppression; and, properly pray in the midst of warfare against your church, city, and nation.
"It is encouraging to see this subject addressed with clarity, biblical integrity, and accessibility. Stephen Beauchamp has faithfully served as a leader of the IHOP-KC prophetic, healing, and deliverance ministries, and now he has translated his many years of experience into a practical deliverance resource for all believers. I recommend this book for anyone interested in developing their understanding of spiritual warfare and strengthening their approach to pastoral ministry." – Mike Bickle, Founder, IHOP Kansas City, MO
"It's here at last—a scripturally rich, spiritually grounded, practical handbook on deliverance ministry and spiritual warfare. My own heart was encouraged to see greater spiritual advances after reading this book."
--Dr. Michael Brown, Ph.D.
Interviews, review copies and giveaway copies are available upon request.
Stephen Beauchamp is part of the leadership of the International House of Prayer in Kansas City, MO. He is currently the Director of the Prophetic, Healing, and Deliverance training at International House of Prayer University, and has been in the Deliverance ministry for over 10 years. Stephen and his wife, Sage, are both graduates of the Brownsville Revival School of Ministry and are itinerate all over the world spreading the message of spiritual revival.
Destiny Image, located in Shippensburg, Pa, was founded in 1983 by Pastor Don Nori, Sr. It seeks to accurately represent authors who have a call to share God's present word to His people and to make these authors easily accessible to the Christian body around the world in every form of media possible.
For press inquiries, interviews and review copies:
Brad Herman
(717) 532-3040 x172
bherman(at)norimediagroup(dot)com