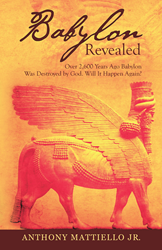 CRANSTON, R.I. (PRWEB) August 05, 2018
The Bible reveals that the Second Coming of Christ is inevitable and unavoidable, and humanity must do all they can to ensure their salvation upon Jesus' return and judgment of the world. Author Anthony Mattiello, Jr. offers a guide to the history and implications of the Second Coming in his new book "Babylon Revealed: Over 2,600 Years Ago Babylon Was Destroyed by God. Will It Happen Again?" which provides an in-depth analysis of the biblical prophecies of the end times as well as what people can do to ensure salvation.
In the book, Mattiello uses biblical and historical background to detail God's purpose for Israel—to be the light to all nations and for his service. He delves into God's warnings about false worship and provides evidence that idolatry, which began in the region of Mesopotamia, has spread throughout the world due to commerce and the pursuit of wealth. Mattiello asserts that false worship has given Satan a greater presence on Earth and will ultimately lead to the destruction of many souls at the end of the world.
"When I began to focus on the prophetic books of the Bible, I was fascinated. I felt driven to learn more about what God was trying to convey," Mattiello said. "After a great deal of prayer and reflection about the meaning of these prophesies, my mind began to open to God's secrets."
Kirkus Reviews describes "Babylon Revealed" as "a detailed exposition of prophetic writings related to the biblical kingdom of Babylon…Readers will find that Mattiello goes further than most, tying modern occurrences to these ancient visions; he sees the struggles of modern Israel, the rise of militant Islam, the increasingly secular nature of Europe, and many other trends as proof that the last days are imminent."
"Babylon Revealed" is an insightful, detailed journey into God's plan for the salvation of mankind and will offer readers hope and guidance in their worship.
"Babylon Revealed: Over 2,600 Years Ago Babylon Was Destroyed by God. Will It Happen Again?"
By Anthony Mattiello, Jr.
ISBN: 978-1973612551 (softcover); 978-1973612568 (hardcover); 978-1973612544 (electronic)
Available at the WestBow Press Online Bookstore, Amazon and Barnes & Noble
About the author
Following the death of his father, Anthony Mattiello Jr. wanted to understand more about the afterlife and the purpose for God's creation. After many years of Bible study, Mattiello began to focus on Biblical prophesy. Seeking to completely understand the meaning of the Book of Daniel and Revelation, Mattiello began a decade-long journey in search of answers. Mattiello believes God granted him understanding so he could warn the world of the coming judgment. To learn more, please visit http://www.babylonrevealed.com.
Contact:
LAVIDGE – Phoenix
Kalin Thomas
480-648-7540
kthomas(at)lavidge(dot)com