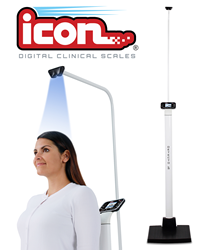 Webb City, MO (PRWEB) July 20, 2016
DETECTO's new icon® series eye-level physician scales are the evolution of product technology in clinical measurement. The icon's powerful sonar touchless height rod combined with an all-in-one color display means the patient simply steps onto the scale platform and within a second full measurements (weight, height, and BMI) are all displayed onscreen instantly without having to press a single key, offering the ultimate in speed, hygiene, and accuracy.

Extra-high 1,000-lb capacity
Sonar touchless height rod for ultimate speed and accuracy
Ultra-thin platform only 1.5 inches high
Multi-color touchscreen LCD display
Displays weight, height, and BMI onscreen simultaneously
Users don't need to press a single button for full readouts
USA-made quality
The Next Evolution of Clinical Patient Measurement Has Arrived!
DETECTO's USA-made icon® represents the next generation of digital clinical measurement. There is nothing equivalent to the icon® on the market!
The icon's virtually-flat base is only 1.5 inches high, offering the ultimate in patient ease of use and comfort while weighing. Plus, the extra-wide 17 inch wide by 17 inch deep platform size allows bariatric weighing.
DETECTO's icon® eye-level digital clinical scale has a dual-ranging capacity of 0.2 lb/0.1 kg up to 600 lb/300 kg and 0.5 lb/0.2 kg up to 1,000 lb/500 kg. The icon® includes a non-medical grade standard AC adapter or can be powered by 12 AA batteries (not included).
DETECTO's USA-made icon® scale assembles easily in seconds right out of the box without the use of any tools. The sonar height rod plugs easily into the back of the column and is held in place securely via a clip on the indicator and the receiving port on the column.
Sleek, stylish product design
Eye-level weight display convenience
Sturdy column construction
Made in USA quality is apparent throughout the scale design
4 different standard icon® models available to choose from
MULTI-COLOR TOUCHSCREEN DISPLAY
DETECTO's icon® features a high-tech, smart-phone-style indicator for easy utilization with 7 simple buttons and a multi-color touchscreen LCD display for large readouts.
0.9-inch-high, clinical-blue LCD weight digits
Multi-color touchscreen LCD display
Displays weight, height, and Body Mass Index onscreen simultaneously
Automatically locks on weight temporarily for a few seconds in order to easily view and record measurement
Menu button provides quick access to user-friendly menu settings for scale customization
Battery power level indication
PATIENT IDs:
The icon's brilliant, multi-color touchscreen display and intuitive user-prompted navigation menus provide easy entry of items such as 8-digit numeric patient IDs for EMR/EHR.
AUTO LOCKING:
When a patient steps on the scale, weight, height, and BMI are all shown onscreen and instantly held on the display for 7 seconds automatically in order for the medical professional to view and record the data.
AC ADAPTER INCLUDED:
DETECTO's icon® clinical scale includes 1 USB-B port, integral bubble level, AC adapter is included standard, optional Wi-Fi, and Welch Allyn EMR/ EHR connectivity available.
BATTERY OPERATION:
The platform cover may be removed for easy cleaning and also to provide access to the battery compartment. The icon® may be powered by 12 AA batteries (not included).
CONNECTIVITY:

1 USB-B port
HL7 IEEE 11073 compliant (standard)
Wi-Fi Ethernet models available for wireless EMR/EHR
Welch Allyn® device connectivity available: CVSM, CSM, and LXI
Learn More:
http://www.detecto.com/cs_product/icon-digital-scales-with-sonar-height-rods
CONTACT:
DETECTO
203 E. Daugherty St.
Webb City, MO 64870
(800) 641-2008
detecto(at)cardet.com