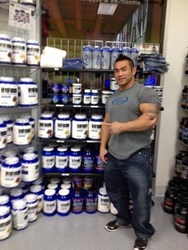 'I appreciate that Jim and Bob Lorimer let me switch classes. I have been waiting for this moment and I finally feel I'm ready to battle with the top 212 athletes,' said Yamagishi.
(PRWEB) January 24, 2014
Gaspari Nutrition®, a globally distributed sport nutrition company, is proud to announce that Team Gaspari bodybuilder Hidetada Yamagishi recently announced that he will compete in the first ever Arnold Classic 212 contest. Up until this point, the Arnold offered the men's open competition but never a 212 division competition. Yamagishi confirmed this move just days ago via his Facebook page. As a bodybuilder known more for conditioning and symmetry as opposed to overall mass, the switch makes sense for him. This will be the first time that he does not compete in the open class as an IFBB pro.
"I greatly appreciate Jim and Bob Lorimer letting me switch to the class. I have been waiting for this moment and I finally feel I'm ready to battle with the top 212 athletes. I'd also like to thank Rich Gaspari, Steve Weinberger, Iris Kyle , and all my friends who advised me to make this decision. Last but not least, I want to thank all my fans all over the world for your support. I won't let you down," said Yamagishi.
Team Gaspari will have a large presence at the Arnold Sports Festival. Gaspari athletes will be in full force and attendees will be able to sample the newest products. Hidetada Yamagishi himself will be at the booth alongside fellow Team Gaspari bodybuilder Branch Warren for pictures and autographs alongside CEO Rich Gaspari.
Gaspari Nutrition has a number of research driven products designed for bodybuilders who push themselves to the limits of human performance. From the timeless pre-workout classic Superpump, to the brand new Detonate XT thermogenic weight loss aide, their innovative Glycofuse performance carbohydrate, to their top selling Aminolast BCAA super-fuel, and the ultra-clean and fast acting Isofusion whey isolate, Gaspari Nutrition has bodybuilders covered from start to finish. With a heavy focus on performance and recovery for elite athletes of all genres, Gaspari Nutrition is making waves around the world with their highly innovative nutraceutical solutions.
About Gaspari Nutrition®
Gaspari Nutrition is headquartered in Lakewood, NJ and is a rapidly expanding, healthy lifestyle sports company that develops and distributes a full line of nutritional supplements. Gaspari's propriety and award winning products address all categories of an active lifestyle including muscle building, weight loss, and general fitness through a daily nutritional supplement regimen. They are one of the few companies to sponsor independent, 3rd party research on their products to prove their efficacy. Gaspari Nutrition is sold in over 85 countries, including over 85 Popeye's locations in Canada, and available in over 5,000 US retail outlets that include GNC, Vitamin Shoppe, and Kroger, as well as over 100 online stores, including Bodybuilding.com, Amazon, DrugStore.com, and SupplementsCanada.com. For more information, please visit http://www.GaspariNutrition.com.