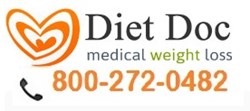 At Diet Doc, board certified doctors and nutritionists guide each patient toward safely achieving their weight loss goals
New Orleans, LA (PRWEB) November 14, 2013
The liver, the body's largest internal organ and the only organ capable of healing and rebuilding itself, plays a vital role in controlling blood sugar, producing bile to eliminate dangerous toxins in the body, supporting the digestive system and regulating fat storage. While the liver stores many essential vitamins, it also serves as a storage site for excess fat. Excess fat and bile can cause the liver to become overworked and sluggish and can result in unwanted weight gain and weight loss plateaus.
Cleansing the liver of excess toxins with Diet Doc's newly formulated Detox Formula supports healthy liver function by cleansing this vital organ, resulting in the liver functioning more efficiently and overall improved general health. The two main ingredients in Detox Formula, Silybum marianum and Glutathione, work in collaboration to increase the liver's ability to detoxify the blood and eliminate waste.
To ensure that patients receive the safest and most effective diet products available on today's market, Diet Doc's prescription diet products are developed in their own United States based fully licensed pharmacies and are not available through any other retailer.
Many patients become discouraged while dieting because they reach a weight loss plateau. It seems that nothing they do will take off those last few pounds. At Diet Doc, board certified doctors and nutritionists guide each patient toward safely achieving their weight loss goals. Each patient's journey toward improved health is personally supervised and progress is monitored with scheduled weekly communication. This level of personal service enables the doctors to rapidly identify and resolve weight loss plateaus by prescribing healthy supplements or making medication adjustments.
Diet Doc understands that willpower and knowledge are not the only necessary requirements for being able to lose weight fast and avoid weight gain, and offers their clients structured meal plans filled with healthy foods, unlimited access to Diet Doc's best diet coaches, as well as supplements that help patients lose weight fast and avoid unwanted weight gain. Prospective patients will complete a medical evaluation and speak directly with a highly trained Diet Doc physician. The doctor will review the patient's entire system which allows them to identify any internal organs, including the liver, that have become overworked and sluggish, thus promoting weight loss plateaus, weight gain and hindering weight loss.
Following a confidential consultation with one of Diet Doc's physicians, patients will receive a one-year prescription and can order their diet products and Detox Formula over the phone or the Internet. For added convenience, all diet products, including Detox Formula, will be shipped directly to the patient's home to avoid embarrassing, costly and time consuming visits to weight loss clinics. Included in their package, patients will receive a Certificate of Analysis, performed by a third party laboratory, showing the quality and levels of each active ingredient.
By providing each patient with the safest and most potent diet products available, medical supervision throughout each patient's life changing weight loss journey and a level of personalized service unequaled by competitors, Diet Doc has become the leading and most reliable fast weight loss plan in the country. Call Diet Doc today to speak to the experts about the benefits of Detox Formula to ensure a clean, healthy liver during dieting and to schedule a free and confidential consultation.