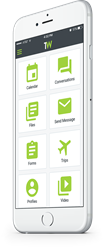 Every NFL team is looking for ways to create efficiencies on and off the field.
Durham, NC (PRWEB) October 26, 2016
Teamworks, the industry leader in mobile collaboration and communication software for athletic organizations, is pleased to announce a new relationship with the Detroit Lions Football Operations. Teamworks now streamlines the club's communication, scheduling, travel planning and player information management. In an age of instant information, the Lions join an increasing number of National Football League teams in enlisting Teamworks' technology to modernize their internal organization and communication.
"Every NFL team is looking for ways to create efficiencies on and off the field," said Jim Caldwell, Head Coach for the Detroit Lions. "Teamworks assists our football communication and football operations and gives players, coaches, and staff one place to go for the information they need, keeping us all on the same page. Having worked with Teamworks since the beginning of the season, this has provided us with a time-saving and efficient addition to our football operation."
Having solidified its position as the premier resource for collegiate athletic programs, Teamworks' sustained growth across professional sports is a testament to an increasing trend towards the adoption of digital platforms and Teamworks' ability to provide effective means of communication and efficient operations for its clients. Teamworks enables coaches and staff to reach players through mass or individual texts, emails, voice or push notifications for schedule changes, wake-up calls and appointment reminders. Players and staff will also be able to securely view a live team schedule, access important documents, complete and file necessary forms as well as much more from the convenience of their mobile devices. With the universal rise of mobile use, Teamworks allows for the Lions' staff to stay in constant communication with their players directly on the devices they already use for everyday communications and move towards becoming a paperless operation.
"Teamworks does more than organize a team's information. Our software enhances the way information is delivered to players and coaches and allows them to reach across the organization more effectively," said Zach Maurides, Teamworks founder. "Operating an organization as large and complex as an NFL team means managing countless moving parts and keeping hundreds of people in the loop and focused on one mission. We're proud to help the Lions do this more effectively than ever and are excited to be a part of their future success."
As collegiate student-athletes graduate and join professional teams, coaches, staff and front offices are increasingly looking to adopt the software many of their players have already become accustomed to using. Teamworks works with more than 75 Football Bowl Subdivision programs and more than 80 percent of Power-5 institutions including all four teams selected to play in the 2015-2016 College Football Playoff as well as many powerhouse programs producing NFL talent such as Oregon, Southern California, Ole Miss, Texas, Texas A&M, Georgia, Michigan, Utah, Louisville, and Florida State. Teamworks also recently announced a new partnership with the NFLPA, becoming the tool used to communicate with every active player at a moment's notice.
For more information about Teamworks, please visit http://www.teamworks.com.
About Teamworks
Teamworks is the leading provider of mobile collaboration software for athletic organizations. Founded in 2004 by former Duke Football player Zach Maurides and based in Durham, N.C., Teamworks has helped athletic teams, departments, and organizations across the country improve the way they share information and communicate. More than 850 clients utilize Teamworks including over 375 NCAA Division I programs; more than 70 Football Bowl Subdivision programs at nearly 50 Power-5 institutions; NCAA Division I athletic institutions including Texas, Duke, Florida, Purdue, Vanderbilt, Marquette, Virginia, Baylor, Texas A&M and Ole Miss department-wide; the Big Ten Conference, the Mountain West Conference, and the NCAA; the NFLPA; Major League Lacrosse; USA Baseball; the San Francisco 49ers, Arizona Cardinals, Detroit Lions, Washington Nationals, and San Francisco Giants. Available on the web, iOS and Android, the application offers a messaging module, team travel management, video sharing, electronic forms, player or employee profiles, dynamic calendar scheduling and much more. For more information about Teamworks, please visit http://www.teamworks.com.
###