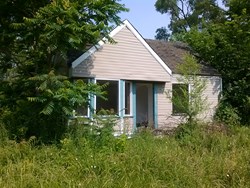 Detroit, MI (PRWEB) January 24, 2014
Leading online Real Estate auction company Micoley.com will be auctioning off a portfolio of four houses in Detroit later this week. Investors clamoring for bargains on residential Real Estate are looking for just this type of deal. After January 25th, someone will most likely have seized this opportunity, so time is of the essence.
Micoley.com's January event, number 1201, has been an exciting time for investors in particular, with a large amount of open land available for those looking to expand their portfolios. While the open land, some zoned for commercial use, has been a major draw, residential investors are in for a treat with this lot of four properties likely to sell at a newsworthy price, with the opening bid set at only $550.
This portfolio of houses consists of two in the area of Boynton and Oakwood Heights, and two closer to the eastern edge of the city, around Chandler Park. All of these homes are within the city limits of Detroit, a city that, to put it mildly, has been in the headlines lately. However, with national focus on Detroit at a time when its municipal government is more transparent that it has been in decades, there's nowhere for property values to go but up.
Despite a long period of population decline, long term residents of Detroit have, it seems, collectively decided that they're not going anywhere, as evidenced by the leveling off of the population. The city is showing admirable resilience and neighbors of these properties, no doubt look forward to recovery, meaning the eventual restoration and use of these properties as rentals. Indeed, the four properties in this auction, initially listed at a total price of $6,500, appear to be in relatively good cosmetic shape from the outside.
As is typical of Detroit Real Estate, details are scant on the precise nature of the homes involved. They appear to be single family houses, likely with no fewer than two bedrooms, but with the current owner, an investor, lacking knowledge of the Detroit area, little is known about these homes, apart from the likely value of the Real Estate itself some time in the near future.
At a staggering opening bid of $550, if no offer is received in the next few days, these homes are bound to attract the attention of investors. Owners of Micoley.com properties are generally amenable to early bids and offers though, and potential bidders are encouraged to start gathering as much information as possible now.
The firm will also be auctioning off another portfolio of seven Detroit homes during the same auction. Consisting of homes similar to that above, the opening bid of $18,975 on this portfolio, is also well below its original asking price of $66,350.
Bidding for these properties will begin on January 25th at 11:00 a.m., and will close at 2:00 p.m. central standard time. Micoley.com attracts significant attention in the Real Estate world, as potential bidders sometimes watch from the sidelines to gauge the interest of other industry players. Those who make early offers may potentially bypass this part of the process, and if their bids or offers are accepted, they often avail themselves of astonishing deals.
In the meantime, interested parties should visit micoley.com to find more photos and details about the properties, or by visiting in person and performing an inspection on site, which is highly recommended. 1-866-371-3619 is Micoley.com's information line. Additionally, Micoley.com features a live chat service through which questions can be answered.
Green Bay, WI-based Micoley.com is a Real Estate marketing firm, specializing in project focused auctions of bank-owned properties throughout the United States. The Micoley.com approach to Real Estate marketing tailors each auction plan to the client's individual needs. The site is constantly being updated for the benefit of buyers, as large scale auction events are held monthly, and new properties are added daily. Broker Firm: WM Enterprises, Inc #6505359759. Broker: Wade Micoley #6502367823.