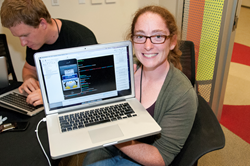 We are excited to bring mentors and skilled coders from a decade's worth of events to help a new group of entrepreneurs over a fun weekend of collaboration.
San Francisco, CA (PRWEB) October 29, 2016
Girls and women, men and boys gather next month for a maker event, full of coding and tinkering, to explore the future of diversity in the technology industry. The goal is to inspire viewers of the nationally broadcast tv talk show Wake Up!, to pursue careers along the path of engineering and science. A showcase of ideas follows 48 hours of collaboration and cooperation using free tools. Partners like Google, PullString, Inc, and lululemon athletica will provide prizes and opportunities to outstanding participants.
Developer Camp brings Silicon Valley's oldest and most successful "hackathons" to a new level of diversity and inclusion. Activities are modeled after the popular event iPhoneDevCamp, which contributed founding moments to companies and products like Square, Temple Run, OAuth, and TestFlight. Award-winners have gone on to sell their ideas to Apple, Google, Facebook, Oracle, and other major tech companies.
Details for the upcoming DevCamp:
WHEN: November 18–20, 2016. 5pm Friday to 6pm Sunday.
WHERE: Startup LaunchPad, 301 Howard Street, San Francisco CA 94105
WHO:All are welcome. Everyone can code.
The DevCamp community expands this year, to include writer and storytellers who want to try their hand making computers talk and interact, just like Hello Barbie and Call of Duty.
"Wake UP! TV promotes being healthy, wealthy, and wise," says conference organizer Adryenn Ashley. "I believe a friendly competition of ideas will inspire all the ladies to consider themselves a little smarter and more daring. Some of the apps and products that have come from Developer Camp are astounding. I cannot wait to see what ideas and frontiers people discover. In the end, we will all be much wiser to the possibilities of women in technology and leadership."
"Our organization's goal is to represent and support the broadest possible range of participants and award-winners," explains Developer Camp co-founder and director Dom Sagolla. "We are excited to bring mentors and skilled coders from a decade's worth of events to help a new group of entrepreneurs over a fun weekend of collaboration. Camp co-founder Whurley recently announced the Equals campaign in partnership with the UN and the ITU. Next month's event will be the first implementation of their vision, which we share: equal opportunity and compensation for all who pursue the path of engineering."
About Developer Camp
Founded in 2007 as a group of Open Source programmers in San Francisco, Developer Camp has grown to a thousands-strong network of engineers and designers in pursuit of their dreams. Praised by Steve Jobs for their work in 2008 and recognized as International Geniuses by the City of Amsterdam in 2012, the founders of Developer Camp recruit top talent from around the world to become mentors to a new generation of innovators. Sponsored by the companies who have hired or acquired the brightest minds from its annual showcase, Developer Camp now offers a year-round community of support and acceleration for men and women, boys and girls of all ages at http://devca.mp.
About Wake Up!
From original television series to engaging new media content, CrowdedTV delivers inspiring and motivating programming that leaves audiences feeling enlightened and empowered. Wake Up! was the first successfully produced program from a new lineup of "good for you TV" pioneered by CrowdedTV. Subscribers can watch Wake Up! online at http://wakeupTV.com and through a variety of digital video networks around the world. Girlfriends Getaway Weekend embraces womanhood and celebrates womankind as a supportive community to instill confidence and inspire personal and professional development.