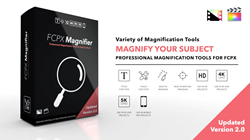 FCPX Magnifier 2.0 allows users to quickly track and magnify their subject.
ALISO VIEJO, Calif. (PRWEB) June 24, 2019
Introducing FCPX Magnifier, a newly updated toolset which allows users to quickly magnify elements in a scene. FCPX Magnifier has been completely overhauled to include our new Track Editor, making it easier and more efficient to track any subject in your scene. Magnifier now includes additional content, giving users more control over stylization and tracking. Take your project to the next level in creativity and professionalism with FCPX Magnifier from Pixel Film Studios.
The inclusion of Pixel Film Studios' new Track Editor makes it easier and faster for users to track any subject in their scene. Simply select a preset, place it over your media in the timeline, track your subject, and watch as your scene is magnified.
FCPX Magnifier has been updated with new 3D glass controls, giving the users more control than ever. Adjust the level of magnification, glass properties, lighting type, environment map, distress and much more. Editors have unlimited possibilities when it comes to the 3D glass controls.
The addition of Pixel Film Studio's brand new Track Editor gives users the ability to achieve fast and accurate tracks without having to set a single keyframe. The new Track Editor was designed for direct integration and function inside of Final Cut Pro. Save time editing and increase your workflow with this incredible tool.
FCPX Magnifier is compatible with all resolutions and aspect ratios including HD, 4K, 5K, and mobile. These tools can be applied to photos or video making it extremely flexible for any project.
Get ready to zoom into the smallest and hardest to see elements of your projects. Use these professional magnification tools to highlight information, bring focus to a subject, enlarge text on screen, or use with maps to show locations. magnify what was too small to be seen with FCPX Magnifier from Pixel Film Studios.
Established in 2006, Aliso Viejo, California-based Pixel Film Studios is an innovative developer of visual effects tools for the post-production and broadcast community. Their products are integrated with popular non-linear editing and compositing products from Apple FCPX. Apple, the Apple logo, Mac OS X, and Macintosh are registered trademarks of Apple Inc. in the U.S. and/or other countries. All other trademarks and trade names are the property of their respective owners.