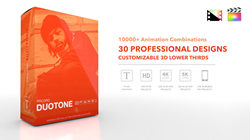 Pro3rd DuoTone has numerous animation options that can be combined to create truly unique animations.
Aliso Viejo, California (PRWEB) June 09, 2019
Pro3rd DuoTone is a collection of 30 professionally designed Lower Third Titles. Pro3rds have numerous animation options that can be combined to create truly unique animations. Customize every element of the preset such as font, color, size, scale, position and more all directly inside of Final Cut Pro. Introduce a new level of professionalism with Pro3rd DuoTone.
Pro3rds are compatible in any 16:9 project. (HD, 4K UHD, 5K UHD, etc.)
Pro3rd DuoTone includes 30 lower third titles created exclusively for Final Cut Pro X. Each Pro3rd DuoTone preset is adaptable to any project and features customizable animations, colors, and more.
Pro3rd DuoTone is best used to introduce a person. Just replace the text with the name of the person in the footage and set the desired animation. Create a professional lower third with ease.
Alternatively, you can use Pro3rd DuoTone to introduce a location or setting. Presets can be used to display additional information about a location or setting in the footage.
Each preset includes on-screen controls so that users can reposition, resize and rotate their titles however they like with absolute ease. Simply adjust the puck as desired. Customize any and all elements of the preset to perfection with Pro3rd DuoTone.
Changing the text is easy. Just select the current text. Delete it. Then, type in your new text. You can change colors, fonts, and much more.
Each lower third is ready-to-use with pre-selected animations, but you can quickly change the animation of your title by selecting presets from drop-down menus. You can individually adjust the animation of any layer of text and the focus group. Fine tune the animation on any design to your liking.
Established in 2006, Aliso Viejo, California-based Pixel Film Studios is an innovative developer of visual effects tools for the post-production and broadcast community. Their products are integrated with popular non-linear editing and compositing products from Apple FCPX. Apple, the Apple logo, Mac OS X, and Macintosh are registered trademarks of Apple Inc. in the U.S. and/or other countries. All other trademarks and trade names are the property of their respective owners.