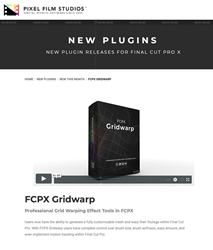 "Warp reality within Final Cut Pro X with FCPX Gridwarp, an exciting new release from acclaimed developers Pixel Film Studios!"
ALISO VIEJO, Calif. (PRWEB) January 04, 2019
Users now have the ability to generate a fully customizable mesh and warp footage within Final Cut Pro. With FCPX Gridwarp users have complete control over brush size, brush softness, warp amount, and even implement motion tracking within Final Cut Pro.
Generate a fully customizable grip warping effect tool within Final Cut Pro with FCPX Gridwarp from Pixel Film Studios. With FCPX Gridwarp users now have the ability to warp media with the use of the brush tool. Users have complete control over brush size, softness, warp strength, warp amount, overall position, and overall rotation.
FCPX Gridwarp allows Final Cut Pro users to alter footage in post. With simple and easy to use controls users simply click and drag to morph any footage and get instant results with ultra-fast render speeds.
FCPX Gridwarp users can track the position and rotation of a particular point of interest, make an alteration, and FCPX Gridwarp does the rest. With state of the art motion tracking capabilities, users can warp live footage and see instant results throughout the timeline.
FCPX Gridwarp was professionally designed to work seamlessly inside of Final Cut Pro X. As a title effect, FCPX Gridwarp can be dragged and dropped and previewed in real time. With the published parameters found in the FCPX inspector, users have the ability to make further adjustments with just a few clicks of a mouse.
Established in 2006, Aliso Viejo, California-based Pixel Film Studios is an innovative developer of visual effects tools for the post-production and broadcast community. Their products are integrated with popular non-linear editing and compositing products from Apple FCPX. Apple, the Apple logo, Mac OS X, and Macintosh are registered trademarks of Apple Inc. in the U.S. and/or other countries. All other trademarks and trade names are the property of their respective owners.