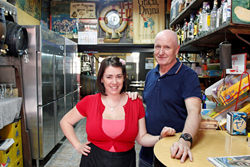 Our goal is to give visitors a true taste of Barcelona.
Barcelona, Spain (PRWEB) August 20, 2014
A group of hungry food entrepreneurs has launched a new food tour company which specializes in showing tourists the off-the-beaten path culinary delights on offer in Barcelona. Devour Barcelona Food Tours will kick off its food tour schedule with the Gracia Neighborhood Food Tour, taking food-loving travelers on a four-hour gastronomic trek through the traditional – and increasingly trendy – Gracia neighborhood, visiting local, family-run businesses to get an authentic taste of true Catalan cuisine.
Devour Barcelona Food Tours is the sister company of Madrid Food Tour, which began offering food tours in Madrid in 2012 and is consistently rated as one of the best things to do in Madrid on TripAdvisor.
"Our goal is to give visitors a true taste of Barcelona," said Lauren Aloise, co-founder of Devour Barcelona Food Tours. "And what better neighbourhood to launch our first tour in than Gracia. It's a proud, traditional Catalan neighborhood, and yet it is also becoming one of the hippest places in town, with emerging art galleries and fabulous restaurants. It's just outside the city's main tourist hub and that makes it the perfect place to show our guests an authentic side of Barcelona that they might not otherwise discover."
The Gracia Neighborhood Food Tour makes ten different food stops, and also takes in points of cultural and historical interest (including famed Catalan architect Antoni Gaudí's first masterpiece, hidden down a quiet Gracia street). The tour lasts four hours and guests try at least 12 different food tastings and two traditional Catalan beverages, vermouth and cava. The tour can be easily adapted for vegetarians and offers discounts for children.
As well as showcasing renowned and lesser-known Catalan foods, the company prides itself on connecting its guests with the locals behind the food.
"Devour Barcelona Food Tours only works with local business owners, supporting small and medium-sized family-run establishments – some of them over a century old – in a sector that has been hit hard by the economic recession," said co-founder James Blick.
"Serving food only made by locals and family-run businesses is extremely gratifying," he added. "Their pride in what they do is infectious. And we're equally proud to share their passion, their stories, and – most importantly – their amazing food – with our guests."
The Gracia Neighbourhood Food Tour is offered Tuesdays through Saturdays at 10:00am and can be reserved online at http://www.devourbarcelonafoodtours/book-now.
About Devour Barcelona Food Tours
Devour Barcelona Food Tours provides authentic, educational and delicious walking and tasting tours with expert local guides. Continuing the success of its award-winning sister company, Madrid Food Tour, the company offers visitors to Barcelona the chance get off the tourist trail, see the real Barcelona and taste true Catalan cuisine.