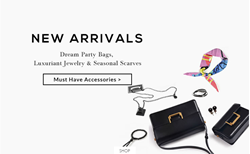 Dezzal Introduces New Line Of Designer Accessories
Shenzhen, China (PRWEB) August 11, 2016
Up until now Dezzal has been known as a fashion e-commerce site specializing in designer clothing, but today the company would like to announce an expansion into accessories. The new accessory line will follow the high quality designer standards already set at Dezzal and mixed with the right clothing will take the customer's ensemble to the next level. Designer brands from all over the globe will now be found in the accessory section.
Different accessories work with different fashions, Dezzal wants to be the customer's one stop shop for all things fashion and to do so the company will be offering a variety of products. Accessories that are on sale at Dezzal now include bags, jewelry, hats, scarves, gloves, among jewelry, there are rings, necklace, earrings, anklets and more. In each category there are various types of products. The Dezzal website also has filters to help customers find the exact products they desire.
Dezzal is currently highlighting the amount of bags they offer. Bags are always necessary when going out. Having a place to put a wallet, phone, makeup, mirrors, etc is crucial for any women. Different times of day and different events call for different kinds of purses. Dezzal has worked with multiple designers to offer many styles, colors, and sizes of bags. There are currently over 1700 bags on sale at Dezzal with the list growing daily. Filters are once again available to help narrow down the choices. All bags sold at Dezzal are of the highest quality and at affordable prices. Customers are encouraged to stock up now as more and more bags are beginning to sell out.
Like with clothing, Dezzal is committed to adding the newest and hottest accessories at lightning speeds. Many designers are currently in negotiation with Dezzal to bring their accessories and clothing to the website. Customers are encouraged to stay tuned to find out when more products come. News on product launches can be found at the Dezzal website and through the companies Facebook page.
Accessories are covered under the same product standards and return/exchange policy as clothing garments. Everything that is shipped out is checked for defects. If customers have any issue they may contact the company for further assistance. Dezzal customer support is available 24 hours a day, 7 days a week. Contact information is located on the company website.
Related link: http://www.dezzal.com/
Email: support(at)dezzal(dot)com