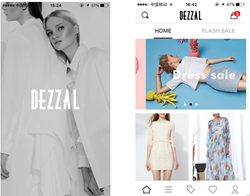 New app to provide easy functionality with great specials.
Shenzhen, China (PRWEB) September 09, 2016
Dezzal has built up a cult like following over the last few years after creating a unique marketing strategy. The company has been able to negotiate extensively with manufactures to produce high quality products at extremely low prices. The premium boutique atmosphere with both international and in house designers has become a user's first choice to get the latest fashions. Today Dezzal is proud to announce its latest revolutionary change, a dedicated iOS app. The app will make shopping easier than ever and offer extensive discounts otherwise not found on the browser website.
The new Dezzal app was released on iOS on August 31st 2016. The app has been designed to be as easy to use as the browser site found on a desktop computer. Customers will still be greeted with all the different promotions, new users will even get 20% off like they would off the desktop site. What is different is that Dezzal will be giving more discounts on the app. To better promote the new Dezzal App the company is running multiple flash sales through the app. This gives customers an even better opportunity to get discounts on products they want and love.
Dezzal does have a WAP site as well for mobile users, however Dezzal has received multiple feedback stating it can be a bit tricky to navigate. The new mobile app is much more clean, straightforward, and easy to use. The Dezzal App is also easier to run payments through and is optimized to handle PayPal and all major credit cards. All products purchased through the Dezzal App follow the same return and exchange guidelines as the full desktop site.
Products sold on the Dezzal App are all found on the full browser website. The same quality control standards that Dezzal has implemented there are on the app. Customers can rest assured that they will be receiving quality products that go through many checks before being shipped.
Dezzal is always looking for feedback, customers who like the app are encouraged to write feedback on the Apple App store page. This ensures that other customers can see the benefits of using the app, and will ensure that the App is a long term success.
Related link: http://www.dezzal.com/
Email: support(at)dezzal(dot)com