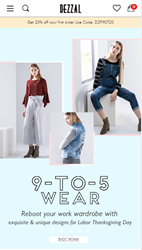 Customers who shop on mobile devices will now be redirected to the mobile optimized website.
Shenzhen, China (PRWEB) September 01, 2016
Dezzal is a premium fashion boutique selling both designer brands and in house designs. The site has grown in popularity over the last several months due to its unique designer brands and high quality products. Customers from all over the globe come every day through different platforms to Dezzal to buy the latest fashions and accessories. With mobile shopping becoming a huge hit, Dezzal has worked extensively to bring a better mobile experience to its customers. After months of work, the Dezzal design team is proud to announce a new WAP mobile website. Customers on mobile devices will automatically be redirected to the mobile website. The benefit for customers is that the website is now optimized for easier shopping.
Dezzal is all about making the customer experience as fluid as possible. In the past, mobile users have found the website sluggish and hard to navigate. The new WAP website mediates the issue. Though customers will experience a more organized website when viewing it on a smartphone (promotions will be easier to read, for example), the same logistics and secure payment methods that are on the desktop website will also be available via mobile—so that customers are experiencing the best of both worlds. There are no missing parts or services on the new Dezzal WAP website when compared to the desktop website.
There are some bonuses for those looking to shop through their mobile devices. To get more customers acclimated with the smartphone friendly service, Dezzal is planning to give exclusive discounts to mobile shoppers. Exclusive mobile only coupon codes are available and will offer customers even cheaper prices. Dezzal hopes to benefit from this introductory offer by encouraging more customers to visit the website on the go. If they can trust it now, then they will come back later. It is a win-win situation.
The new WAP website is just the start for Dezzal. The company is currently experimenting and on the verge of rolling out new and exciting features. Customers are invited to keep checking back for more news and updates. For the time being, customers are encouraged to leave feedback on the new WAP website. Feedback can be left by visiting the Contact Us page, which can be accessed at the bottom of the Dezzal website. All feedback is welcome and will be used to better the website going forward.
Related link: http://www.dezzal.com/
Email: support(at)dezzal(dot)com