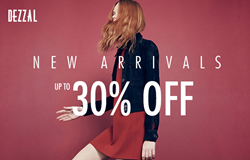 Company bolsters fall collection with new line of clothing and special sales
(PRWEB) October 14, 2016
Dezzal is known for carrying both in house designers and world renowned designer brands, this has driven praise from shoppers around the world who want both. The company focuses on running a consumer centric business model that sees products being sold at very affordable prices while keeping the product quality high. Dezzal is able to provide affordable products because of its deep connection with the top manufacturing plants in the world. Dezzal leverages these connections to get affordable prices, which are then passed directly to the customer base so they save money on purchases. Today Dezzal staff are proud to announce the launch of a new fall collection. This collection includes jackets, coats, sweaters, cardigans, sweatshirts, scarves, and bags. These products will keep customers warm during the fall season while also keeping them up to date on the latest fashion. To go along with the new product line Dezzal is also introducing a weekly designer sale. Every Wednesday a new designer will be given the spotlight along with a massive sale on their products! Customers will be able to buy from top designers at affordable rates.
With temperatures dropping close to freezing more and more shoppers are looking to stay warm. Dezzal's new fall fashion line provides this while keeping customers looking great. The company has stocked up on many different styles and colors of products, specifically jackets and coats. Trench, wool, maxi and double breasted jackets are now all available, along with embroidered and bomber jackets. All coats and jackets come in different colors, sizes, and prints. This provides customers with a great amount of choice and ability to be unique and original from other Dezzal shoppers. The company has the most variety right now in maxi coats, but will be adding more to the other styles later.
To get customers excited about using Dezzal the company is introducing a weekly designer sale on Wednesdays. From 00:00 am to 23:59 pm (EST) on Wednesdays the company will be spotlighting new designer brands. When a brand is put on spotlight its products will be put on sale, this gets designer brands noticed by new customers and gives those customers a great discount. It is a win-win situation and Dezzal expects it to drive traffic from new and old customers.
Related links: http://www.dezzal.com/
Email: support(at)dezzal(dot)com