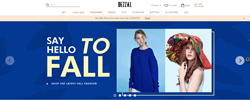 320 Global Brands Now Working Under More Strict Dezzal Quality Standards
Shenzhen China (PRWEB) August 19, 2016
Dezzal is a premium e-commerce fashion boutique with a twist. The company carries both premium in house designer brands, but branches out to 320 well known global brands. Where Dezzal takes a different approach is pricing. The company understands that not always can a person afford to buy the latest premium fashions because of money constraints and wants to mediate the issue. Dezzal works closely with both in house and international brands to create strategic agreements that allow for cheap prices and high quality products to continue, Often people may get the misconception that cheaper is worse quality, but Dezzal is ready to disprove such rumors. Dezzal is constantly looking for ways to keep products at the premium feel without ever having to raise the price. Today company management is proud to announce increased manufacturing and customer service standards that all Dezzal products must meet going forward.
Starting now, both in house and global brands must provide samples before a product is placed on the website for sale. This practice has been in place for Dezzal branded products previously, but now for international brands as well. Sample checks before mass sale allow Dezzal staff to look at product quality before adding it to the website. If the product can pass Dezzal quality checks it should be good for even the most picky customers. Each sample is checked for textile strength, look, feel, material, etc. before passing the sample testing.
To ensure that manufacturers and global partners are meeting company standards Dezzal will be offering brands the opportunity for in house training. Design and manufacturing teams will be invited to come in and be taught by Dezzal management on company standards and practices. This should help ensure that manufacturers and brand partners are sending only high quality products to be tested as samples in the first place, that all products sent to customers are kept to Dezzal standards, and that strict return policies are kept.
The new manufacturing standards are still being rolled out, but Dezzal wants to make sure customers are still happy with existing products. In the event that a product doesn't feel as described, or there is an issue like the wrong size is sent then the company will return or exchange the product within 30 days of arrival. Customer service staff are constantly being retrained to make sure they meet new standards at all times. Customers who have any questions can get in contact with well trained agents at the following number 1-518- 772-2117 between 08:30 and 18:00 (UTC +8) everyday.
Related link: http://www.dezzal.com/
Email: support(at)dezzal(dot)com