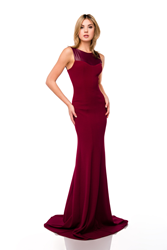 DFI designs range from bridesmaid, wedding dresses, mother of the bride, to prom and homecoming ensembles.
Los Angeles (PRWEB) February 18, 2015
With big springtime events like prom just around the corner, Trendy Collection continues to expand its inventory and add a variety of stunning gowns to its impressive online selection of evening gowns and party dresses. Trendy Collection stands out from its competition in the online dress retail world due to the scope of their available designs and dresses which vary in length, style, color, manufacturer, and price ranges. Now, the newest featured designer to join the ranks of their existing collections is Dollar Fashion, with their newly released DFI Spring 2015 collection.
The new DFI spring collection from dress designer Dollar Fashion showcases designs for numerous social events, special occasions, and formal evening wear. DFI designs range from bridesmaid, wedding dresses, mother of the bride, to prom and homecoming ensembles. Based out of Los Angeles, DFI has been in the wholesale and manufacturing business of designing amazing dresses for a variety of special occasions since 1988. DFI dresses are acclaimed for the exceptional quality and craftsmanship that is offered at affordable prices.
Some highlights from the recently added DFI 2015 Collection include the Dollar Fashion 1424 design. This daring floor-length dress is unique and alluring, standing out with its curve-hugging silhouette and stylish high neck, and two-tone fabric color choices. Another standout piece that would be perfect as a prom dress is the Dollar Fashion DFI 6126 design. This stunning long evening gown features shining sequin appliques running down the sides, while a stylish halter top, v-neck, and open back complete the look. The colors of black, white, red, and royal are right on point with this spring's runway trends. A final spotlighted design would be the Dollar Fashion 6125 dress, with its springtime shades and flirty silhouette. This chiffon piece features a flowing long hemline, sweetheart neckline, and a beautifully embellished fitted bodice to complete the captivating look.
To view all of the DFI spring 2015 dresses featured at Trendy Collection, browse through their selection by clicking here.
Trendy Collection
(213) - 489-1492
948 Santee St. 2nd Floor
Los Angeles, CA 90015
-Brought to you by TRIXMEDIA : Creating Possibilities
Based out of Beverly Hills, CA