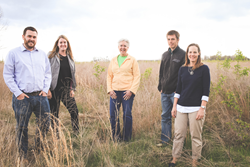 Because sustainability is not about doing less harm. It's about doing further good.
St. Louis, MO (PRWEB) October 21, 2016
Although DG2 Design Landscape was created almost six years ago the firms five designers have been able to enhance and influence multiple projects across Missouri including streetscapes, natural playgrounds, greenways, plazas and park master plans including Forest Park's Upper Muny Parking Lot and Festival Plaza. Many of these projects are Leadership in Energy & Environmental Design (LEED) certified or utilize components of the Green Business Certification Inc.'s (GBCI) new Sustainable SITES Initiative (SITES®) rating system. DG2 Design believes that landscape architecture firms should be an important partner in all types and sizes of projects and continue to impact how the world continues to develop. Kristy DeGuire started the firm by believing great landscape architecture is a base for people to connect and join in a larger conversation. She has a strong passion for natural play and the healing components of nature and encourages the firms employees to find and grow their passions within the trade. "Even beyond the landscape, I truly believe landscape architects can help save the world. Each project component is equally important whether it is designing a project to filter stormwater from a new building, specifying to delay the removal of vegetation that is crucial foraging for honey bees and bat habitat or working with a non-for-profit to develop a space for immigrant children to safely play," says Kristy.
DG2 Design Landscape Architecture, which designs both commercial and residential landscape architecture, celebrated its 5th anniversary earlier this year and announced today the addition of their fifth designer and the launch of its newly revamped website. This newly redesigned website communicates the firms believe that sustainability is not about doing less harm. It's about doing further good. The website offers quick and easy access to essential information like project types, past projects and a few partners and clients. The website also has a BLOG section where each of the designers and project managers write articles about their passions and knowledge of the industry. http://www.dg2design.com Kristy says "One of the main reasons we updated the website is to allow the designers to educate the public on important facts regarding landscape architecture and to communicate our process with our partners and clients. Being involved early on in the project is imperative to the success and sustainability of a project."