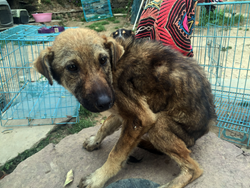 "Make a Dog's Day Better"
San Francisco, CA (PRWEB) March 16, 2016
Meet Nikki. She was found in a ditch. Starving, lonely, losing fur, and terrified of humans.
GlobalGiving, the first and largest global crowdfunding community that connects nonprofits, donors, and companies in nearly every country around the world, is partnering with Dharamsala Animal Rescue, on March 16th, 9AM - 11:59PM, by matching any donation going to help Nikki and dogs just like her.
Dharamsala Animal Rescue want to bring attention to the well being of the thousands of dogs living on the streets of Dharamsala. India has the highest number of strays in the world; an estimated 35 million. Tragically, rabies kills over 30,000 humans annually in India, and the majority are impoverished children. Dharamsala Animal Rescue provides a humane solution - offering a spay, neuter and vaccination program, a rescue and adoption program and humane education for the community. Dharamsala Animal Rescue has seen astounding success with the implemented programs and hopes to continue to expand efforts.
"Kudos to DAR for their great work. I have been connected with them from past 4 years and must say that they are the most dedicated team I have ever come across. Whenever I have called them for rescue and medication of animals around Dharamshala, they will be on time and take extreme care of the animals. A big thanks to the DAR team for always taking good care of the stray animals and make impossible cases possible." - Vidushi Mehta, Dharamsala resident.
Dharamsala Animal Rescue was founded in 2008 and is a registered 501c3. Dharamsala Animal Rescue has been working to improve the lives of dogs living on the streets of Dharamsala while inspiring more compassionate behavior towards stray dogs in the community. Click HERE to help Nikki and make this dog's day much better.
Help Decrease Suffering and Increase Compassion!