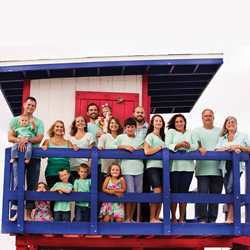 Supporting the JRDF charity walk against diabetes is something that our firm does every year, and we hope everyone in our community will come out to join us so we can turn Type 1 into type none
Rockledge, FL (PRWEB) April 19, 2016
Turner Insurance Agencies, a family managed insurance company that provides coverage to families and businesses throughout the greater Jacksonville area, is planning the sixteenth annual charity drive in support of the JRDF walk to fight Type 1 Diabetes.
Turner Insurance Agencies has supported the charity walk to end diabetes, sponsored by the central Florida chapter of the JRDF, for 16 years running. To date, the Turner team has raised more than $200,000 in donations, and 100% of these funds have been donated to the JRDF in an effort to help find a cure for Type 1 Diabetes.
"Supporting the JRDF charity walk against diabetes is something that our firm does every year, and we hope everyone in our community will come out to join us so we can turn Type 1 into type none," says Andy Turner, founder and director of Turner Insurance Agencies.
To gather donations and raise awareness of the JRDF charity walk against Type 1 Diabetes, Turner and his team are utilizing email and social media to reach business and community leaders throughout central Florida. The Turner Insurance team is also working up a full page feature article on the charity event that will be included in the next issue of the firm's monthly online magazine "Our Hometown": http://www.turnerinsuranceagencies.com/Our-Hometown-Magazine_41.
Supporting the JRDF charity walk for 16 years in a row is only a portion of the story for the Turner Insurance team. As part of an ongoing community enrichment program dubbed "Agents of Change," the firm is committed to finding and assisting other Florida charities at the rate of one every sixty days.
Readers looking to join Turner Insurance Agencies during the JRDF charity walk to end Type 1 Diabetes are encouraged to visit this page and make a personal contribution to the effort: http://www.turnerinsuranceagencies.com/Team-Turner-Continues-16-Year-Mission-To-Find-Cure-For-Type-1-Diabetes_26_community_cause. Readers interested in finding out more about other Florida charities supported by Turner Insurance are invited to peruse the firm's Community Causes listing: http://www.turnerinsuranceagencies.com/community-cause?page=1.
About Turner Insurance Agencies
As a Personal Finance Representative in Florida, agency owner, Andy Turner, knows many local families. His knowledge and understanding of the people in his community, helps provide customers with an outstanding level of service. Andy and his team look forward to helping families protect the things that are important to them, like their family, home, car and much more. They can also help clients formulate a strategy to achieve their financial goals. To contact a helpful expert from Turner Insurance, browse to http://www.turnerinsuranceagencies.com/ or call (321) 452-0310.