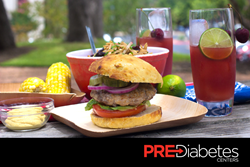 Austin, Texas (PRWEB) June 30, 2014
PreDiabetes Centers, the nation's leading provider of prediabetes treatment, unveiled a menu of delicious and nutritious recipes to help people celebrate the stars and stripes healthfully this Fourth of July. PreDiabetes Concierge Chef Han Ashley developed four festive summer dishes for the Company's clients and online readers, all of which are available on the Company's website.
The PreDiabetes Centers Independence Day cookout dishes allow people to stick to a nutrient-rich diet while still enjoying festive party food.
The Juicy Stuffed Turkey Burgers feature a mixture of ground turkey and lean beef, bison or veggie beef, while garlic, spices and a mix of veggies endows it with extra flavor, crunch and essential vitamins and minerals.
The Orzo Salad with Pine Nuts, Radicchio, Cherries and Garden Herbs is a standout, colorful pasta dish that is packed with protein and iron.
The White Chocolate Chip Blondies with Dried Cherries is a healthier alternative to brownies and feature coconut flour, Smart Balance baking sticks and reduced amounts of sugar–yet still has the indulgent taste dessert-lovers know and love.
To wash down the healthy, filling food, try the Cherry-Lime Green Tea Cooler, sweetened with a touch of honey and given a deep, all-American flavor with fresh cherry juice.
Check out the PreDiabetes Centers Independence Day delicious, healthy cookout menu and make one of the dishes at your backyard cookout this weekend!
PreDiabetes Centers specializes in the treatment of prediabetes using cutting-edge body monitoring, health coaching, nutritional supplements, personalized fitness, and an advanced dietary plan to stop the onset of diabetes. Teaching prediabetics how to eat unprocessed, whole foods and cook nutrient-rich meals is a key part of an overall prediabetes treatment plan.
In addition to having access to the recipes on the website, clients who are enrolled in the 12-month prediabetes treatment program receive more than 250 custom-created prediabetes-friendly recipes.
PreDiabetes Centers aims to draw awareness to the growing epidemic of prediabetes, which affects more than 79 million Americans. Reversing diabetes while it's still in the early, reversible stage of the disease–the prediabetic stage-can help a person avoid devastating, lifelong health complications, such as heart problems, nerve damage and kidney damage.
Those who feel they may be at risk for prediabetes can book a free blood screening by calling 1-855-399-7733 (PRED). For greater convenience, people also have the option of scheduling online.
PreDiabetes Centers is a privately owned company based in Austin, Texas, dedicated to the prevention and treatment of diabetes. Treatment at the Center is based on physician-directed care and lifestyle intervention tailored for each client. Using advanced biomarker testing to monitor metabolic processes in the body, the treatment program reverses the diabetes process in people with prediabetes and early-stage type 2 diabetes.