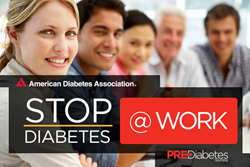 Austin, Texas (PRWEB) October 23, 2014
PreDiabetes Centers, a national provider of prediabetes testing and treatment, will help host a diabetes prevention presentation at Austin Community College, Riverside Campus, on Thursday, October 30 to promote diabetes screening, as part of its collaboration with the American Diabetes Association in the Stop Diabetes @ Work initiative.
PreDiabetes Centers Medical Director Alan Hopkins, MD, will speak to employees of the college about the diabetes epidemic, how poor nutrition raises risk for the disease, and the importance of screening for prediabetes and diabetes.
Diabetes is a top health problem in the workplace. It's one of the most common health conditions at work and leads to higher health care expenses for an employee. People with diabetes spend 2.3 times more on medical expenses, compared to people without diabetes.
A nutrient-poor diet packed with sugar, saturated fat and salt–the typical American diet–is a leading contributor to the diabetes epidemic.
A sedentary lifestyle, which can lead to weight gain, also raises a person's risk for the disease.
In fact, according to the Centers for Disease Control and Prevention, without weight loss and regular exercise, 15%-30% of people with prediabetes will become diabetic over the next five years.
"The tsunami of diabetes is coming. We currently have 86 million Americans in the prediabetic state, and many of those will go on to develop diabetes," said Dr. Hopkins. "This is largely preventable. Unfortunately, 90% of those with prediabetes have no symptoms, so they don't seek care. If we can diagnose the disease in its early stages, we can often reverse and prevent the severe complications of diabetes."
At the Austin Community College employee wellness event, Dr. Hopkins will encourage employees to sign up for a comprehensive blood screening that measures 15 biomarkers related to the development of diabetes, including blood glucose, hemoglobin A1c, C-reactive protein, testosterone, thyroid hormones, HOMA-IR, and more.
For employees who have prediabetes or early-stage diabetes, PreDiabetes Centers can offer customized a treatment plan that treats the root causes of type 2 diabetes, including a dysfunctional metabolism, poor nutrition and underlying health disorders. The 12-month treatment program uses traditional medicine, health coaching, nutritional supplementation, an advanced dietary plan, guided fitness, and sleep and stress therapies.
People who are interested in learning their risk for diabetes can take the online Diabetes Risk Survey and schedule a free consultation with a prediabetes physician.