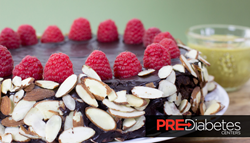 No added sugar makes this the perfect non-alcoholic drink, and no one has to know it's healthy.
Austin, TX (PRWEB) December 23, 2014
PreDiabetes Centers, the nation's leading provider of diabetes testing and prediabetes treatment, released two new holiday recipes for Healthy Holiday Egg Nog and Secretly Healthy Raspberry Chocolate Torte. These simple and delectable recipes are the latest recipes to be added to the extensive collection of prediabetes-friendly recipes available to clients at the Company's nationwide treatment centers.
Traditional egg nog is loaded with fat, calories and cholesterol, thanks to ingredients like heavy cream, milk, and eggs… and don't forget all the sugar that's added! One 8-ounce cup of egg nog can have as many as 440 calories and contain more saturated fat than a Big Mac!
To satiate clients' seasonal craving for the creamy, delicious beverage, PreDiabetes Centers fashioned a recipe for Healthy Holiday Egg Nog.
The healthier version of egg nog features coconut milk, walnuts and hemp seeds or navy beans, and is sweetened with dates. To give it holiday spice, the egg nog also is laced with nutmeg, cloves and a dash of turmeric (which contains anti-inflammatory properties!).
"No added sugar makes this the perfect non-alcoholic drink, and no one has to know it's healthy. Rich and full of depth and flavor, this egg nog will even satisfy the pickiest egg nog connoisseur!" said PreDiabetes Centers Concierge Chef Han Ashley, who created the holiday recipes.
Decadent chocolate desserts are another holiday favorite, but rich, chocolaty desserts are typically packed with sugar, fat and calories. To help clients stick to their nutrient-rich dietary plans, Ashley concocted a recipe for Secretly Healthy Raspberry Chocolate Torte.
The deceptively simple Raspberry Chocolate Torte is flourless, vegan and packed with fiber! Using sweet potatoes, apple and almond milk, this dessert cleverly sneaks in added nutrition. It also features amaranth flour instead of bleached white flour–which delivers high-quality protein and has high levels of the amino acid lysine to help the body properly absorb calcium.
A nutritious, balanced diet is the cornerstone of a smart diabetes prevention and prediabetes treatment plan. Identifying diabetes risk factors and treating underlying metabolic dysfunction is also essential to preventing diabetes.
PreDiabetes Centers specializes in diagnosing and treating prediabetes, which is the earliest stage of type 2 diabetes. The Company has treatment facilities in Texas, Pennsylvania and Georgia.
To stop the onset of diabetes, PreDiabetes Centers health teams use cutting-edge biomarker blood tests, health coaching, nutritional supplements, personalized fitness, and an advanced dietary plan. Teaching prediabetics how to eat unprocessed, whole foods and cook nutrient-rich meals is a key part of an overall prediabetes treatment plan.
Those who feel they may be at risk for prediabetes can book a free blood screening by calling 1-855-399-7733 (PRED). For greater convenience, people also have the option of scheduling online.