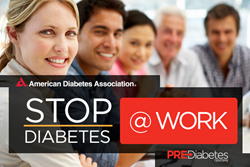 Good nutrition is 80% of your health!
Austin, Texas (PRWEB) February 24, 2015
PreDiabetes Centers, a national provider of prediabetes testing and treatment, co-hosted a presentation at the University of Texas, Austin, last week and urged university employees to sign up for free diabetes screening to learn their risk for type 2 diabetes, a chronic condition that affects more than 29 million Americans and can lead to many serious, long-term health problems.
Prediabetes is the early, reversible form of the disease affecting more than 86 million people. PreDiabetes Centers offers free diabetes screening to anyone interested in learning more about their metabolic health, and has a comprehensive treatment program available to people who have prediabetes or early stage type 2 diabetes.
Tanja Burkinshaw, RN, a health coach at PreDiabetes Centers who guides clients through treatment, spoke to UT employees about the dangerous health consequences associated with diabetes.
"By the time a person receives a diabetes diagnosis, about half of the pancreas mass has already been destroyed," said Burkinshaw.
This occurs because of insulin resistance: When the body's cells fail to respond to insulin, the pancreas churns out more and more insulin–to keep up with rising levels of sugar in the blood–and eventually the pancreas wears out.
In addition to causing pancreatic exhaustion, diabetes can also cause nerve damage, eye problems, kidney disease, high cholesterol, skin problems, and erectile dysfunction, and increase risk for heart attack, stroke and certain types of cancer.
Burkinshaw also offered UT employees vital tips for diabetes prevention, including a nutrient-rich, whole foods diet and a non-sedentary lifestyle. She stressed the importance of nutrition over exercise, though.
"Good nutrition is 80% of your health!" said Burkinshaw. "You can go to the gym every day, but if you're not eating the right foods you will never attain optimal health."
PreDiabetes Centers is a proud partner with the American Diabetes Association (ADA) Stop Diabetes @ Work program, an initiative that promotes diabetes awareness, detection, prevention, and successful management of diabetes. PreDiabetes Centers is proud to join the ADA in the movement to stop the diabetes epidemic and is committed to promoting good metabolic health in the workplace.
Developing innovative detection and treatment for diabetes is a shared mission of both the ADA and PreDiabetes Centers. The Stop Diabetes @ Work initiative aims to educate companies about the benefits of diabetes prevention and treatment.
The PreDiabetes Centers free advanced blood test examines more than 15 biomarkers, or chemicals and proteins in the blood, that can indicate the presence of prediabetes or diabetes, including fasting blood glucose, hemoglobin A1c, high-sensitivity C-reactive protein, insulin, testosterone, thyroid hormones, cholesterol levels, and more.