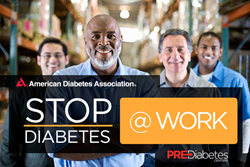 We hope our partnership with the ADA will empower employees to get screened for prediabetes and its associated conditions.
Austin, Texas (PRWEB) September 22, 2014
PreDiabetes Centers, a national provider of prediabetes testing and treatment, will work with companies to help employees learn their risk for type 2 diabetes and prevent the development of diabetes as part of a collaboration with the American Diabetes Association (ADA) and its Stop Diabetes @ Work initiative.
PreDiabetes Centers Medical Director Alan Hopkins, MD, will appear at the Texas Department of Transportation in Austin on Tuesday, October 21st to discuss the epidemic of prediabetes and type 2 diabetes, risk factors for the disease, and the importance of early screening.
"Diabetes is a disease every person should want to avoid," says Dr. Hopkins. "It's a chronic disease that affects your quality of life, and it could even hinder your performance at work if the disease is not well-managed."
Diabetes can be cumbersome to manage at work, especially if a person is battling severe blood sugar fluctuations or is insulin-dependent.
A diabetes diagnosis leads to higher health care costs for an employee and a greater number of sick days, according to research. It's reported that men with diabetes have 11 more absences per year, compared to non-diabetics, while women with diabetes have 8.7 more absences per year.
Dr. Hopkins will encourage employees to gauge their risk for type 2 diabetes by taking a Diabetes Risk Assessment, which will be available to attendees at the wellness presentation. Those whose scores suggest they are at risk have the option of signing up for a comprehensive blood screening that measures 15 biomarkers related to the development of diabetes, including blood glucose, hemoglobin A1c, C-reactive protein, cholesterol, testosterone, thyroid hormones, and more.
For employees who have prediabetes or early-stage diabetes, PreDiabetes Centers can offer customized treatment plans that target the root causes of type 2 diabetes, including a dysfunctional metabolism, poor nutrition and underlying hormone imbalances and health disorders. The 12-month treatment program uses traditional medicine, health coaching, nutritional supplementation, an advanced dietary plan, guided fitness, and sleep and stress therapies to reverse the onset of diabetes.
PreDiabetes Centers is proud to partner with the ADA in the Stop Diabetes @ Work program, an initiative that promotes diabetes awareness, detection, prevention, and successful management of diabetes.
"We hope our partnership with the ADA will empower employees to get screened for prediabetes and its associated conditions," says Dr. Hopkins. "If left untreated, a significant portion of prediabetics will progress to diabetes, the leading cause of blindness, kidney failure and non-traumatic amputations in the U.S. Screening for this disease is absolutely essential."
People who are interested in learning their risk for diabetes can take the online Diabetes Risk Survey and schedule a free consultation with a prediabetes physician.