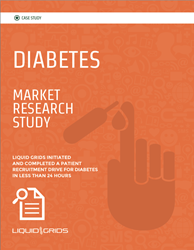 Patient recruitment is notoriously difficult with more than 80% of studies delayed due to slow patient accruals
San Diego, CA (PRWEB) October 22, 2013
Liquid Grids®, Healthcare's only All-In-One Inbound marketing platform recently initiated and completed a recruitment drive to recruit and prequalify type 2 diabetic patients.
The drive took less than 24 hours to fulfill 100% of the study quota of pre qualified patients. 97% of the people met the criteria of the study with just a 5% dropout rate. The campaign's unprecedented speed and precision yet again demonstrated the power of the company's Social Health Intelligence and Direct to Persona® marketing capabilities.
"Patient recruitment is notoriously difficult with more than 80% of studies delayed due to slow patient accruals," said Malcolm Bohm, President & CEO of Liquid Grids.
329,193 hyper-targeted impressions were generated across two simultaneous advertising campaigns. The survey had an incidence rate of 100%, (the frequency with which a qualified respondent agrees and completes a survey).
By applying its proprietary disease persona analytics, Liquid Grids develops highly contextual content that appeals directly to patients at the right disease stage required by clients.
"Our platform directly connect brands with consumers known to be seeking, discussing or sharing specific health experiences. No other solution delivers this Return on Investment model for inbound marketing campaigns," added Bohm.
For more information, please download the study here or visit http://www.LiquidGrids.com
About Liquid Grids®
Liquid Grids®, the pioneer in Direct to Persona Marketing®, is servicing companies across the healthcare spectrum to deliver the most effective contribution to digital and social media marketing and advertising campaigns. By providing the most advanced and predictive intelligence available about healthcare consumers, the platform drives insightful marketing strategies that change the way the Healthcare industry interacts with online health communities. Learn more at http://www.liquidgrids.com.