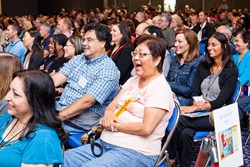 Learn, laugh and live better.
San Diego, CA (PRWEB) August 10, 2013
Why do TCOYD's 2013 national conferences look and feel a bit different this year? TCOYD has been graciously awarded support funding from two fabulous foundations, the Leona M. and Harry B. Helmsley Charitable Trust and the Medtronic Foundation.
With this new level of support funding, TCOYD has been able to focus on individualizing the way people with diabetes learn how to manage their condition. "This was a great opportunity for us to address the different educational needs between the two conditions and we were able to do that by creating a brand new all-inclusive "Type 1 Track" at our national conferences," said Dr. Steven Edelman, Founder and Director of Taking Control of Your Diabetes. Now, conference attendees have the choice of attending a newly developed "Type 1 Track" or the improved "Type 2 Track" in order to get more precise and type-specific information about how to effectively manage diabetes. "We have always made sure that the information and education people received at our conferences addressed the needs of people with type 1 and type 2, but now, with the two different tracks we can really focus in on what type 1's and type 2's need and want when it comes to getting the right type of management strategies and education," Edelman said. The different tracks have also allowed TCOYD to start reaching more of the type 1 community. "During our first two conferences of the 2013 season we have really seen increased attendance from the type 1 community and it's great to see that individuals are responding to the changes we have made with both the 'Type 1 and Type 2 Tracks', the new type 1 hands-on sessions, and our expanded type 1 and type 2 focused social media sessions," said TCOYD's Executive Director Sandra Bourdette. "Without the support from these two foundations we wouldn't have been able to expand in this way. We are very grateful and hope to continue this trend."
TCOYD's next stop is Worcester, Massachusetts. Live in the area? Know anyone that does? Be sure to pass this information along. Learn, laugh and live better on Saturday, September 21st 2013 at the DCU Center in Worcester.
Visit http://www.tcoyd.org for more information or call 800.998.2693.