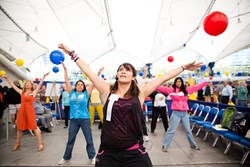 It is my conviction, that health care in this country will improve when people living with diabetes are informed and empowered to take an active role in their own condition. - Dr. Steven V. Edelman
Worcester, Massachusetts (PRWEB) September 09, 2013
Diabetes affects more than 1.5 million people in New England. Many are asking the same question: "Does anyone understand what it's like to live with diabetes?" Taking Control of Your Diabetes (TCOYD) is a 501(c)3 not-for-profit organization that has been educating and motivating diabetes communities in cities around the country since 1995, and they understand. TCOYD will be hosting its 147th national event in Worcester with an all-star cast of diabetes experts for a day that will ignite motivation, offer hope and change the life of anyone with diabetes!
Steven Edelman, MD, Endocrinologist founded the organization in 1995, as it has become his personal life-long passion and mission to help others, like himself, who have been affected by diabetes. Edelman was diagnosed with type 1 diabetes in 1970 when he was 15 years old. Diabetes management and care strategies were very uncharted territories 42 years ago. Edelman says, "I distinctly remembered sitting in a lecture hall packed with eager medical students, like myself, and listening to my professor cite statistics from a textbook about the high death rate of people with diabetes. My professor went on to state that 50% of people with diabetes die from diabetic kidney disease within 20 years after their initial diagnosis. Later that same afternoon in my physiology laboratory, I had to dissect the cadaver of a 25-year-old male, who had died of diabetic kidney disease. I was 23 at the time, with eight years of diabetes behind me. At that moment my life's purpose began to sharpen and I knew that I would forever be linked to a mission of improving my health, the health of others with diabetes, and the medical system behind it all."
What makes TCOYD stand apart from any other organization is that they are strong advocates of change, believers in a cure for diabetes, and proponents of possibility. TCOYD brings the medical world and the patient world together in order to engage in conversations that make a difference, that improve lives and health at a very deep and lasting level.
Join TCOYD at the DCU Center on Saturday, September 21, 2013 from 9:00am – 5:00pm. Expect motivational, uplifting and informative presentations from leading diabetes experts, one-on-one advice from endocrinologists, diabetes educators, dietitians, pharmacists and personal trainers, along with workshops that include, updates on new devices and medications, as well as what is on the horizon in terms of a cure, recent exciting developments of the artificial pancreas, and the most up-to-date information on diabetes care and self-advocacy in a variety of topics and formats.
SPACE IS LIMITED: pre-registration is recommended.
Registration fees: $15 per person ($10 per person for groups of 2 or more) on or before 12 noon PST Wednesday, September 18, 2013. Day-of event registration is $20 and begins at 7:30am at the DCU Center. FINANCIAL ASSISTANCE IS AVAILABLE BY CALLING TCOYD.
To register or to get more information, call 800.99.TCOYD (800.998.2693) or visit http://www.tcoyd.org.
For press or PR inquiries please contact Jennifer Braidwood at 858.792.4741 ext 21 or jennifer(at)tcoyd(dot)org.