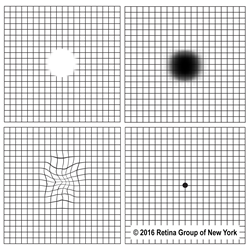 Diabetics require yearly screening exams to identify risk since diabetic retinopathy may have no symptoms until fairly advanced. Treatments at the appropriate stage of the condition can maintain or improve vision and prevent blindness in over 95%.
Melville, NY (PRWEB) March 07, 2017
The Retina Group of New York is pleased to be exhibiting at the no-charge JDRF Long Island Chapter Type One Nation Summit "Improving Lives / Curing Type 1 Diabetes" March 11, 2017 in Melville, NY. The Type One Nation Summit is a half-day educational and networking opportunity for the type 1 diabetes (T1D) community which brings together T1D experts, physicians, and researchers to share their expertise on the latest treatments, breakthroughs in research, and the psychological and social aspects of living (and thriving!) with T1D.
Additionally, the event features a robust exhibit hall of vendors representing the latest in diabetes management technology, resources, products, and research, as well as a children's program. Keynote Speaker will be "American Ninja Warrior," Kyle Cochran. "Not Letting Diabetes Stand in His Way" since 1993, Kyle will share how his life-long love of competition and insulin pump therapy have helped him achieve successes in life. Kyle's participation is made possible by Tandem Diabetes Care.
"We are delighted to support JDRF at this event," states James Maisel, M.D., founder and chairman of the Retina Group of New York. "We look forward to answering questions regarding eye problems and educating about prevention, diagnosis and treatment of diabetic retinopathy. It is important to convey the positive message that 95% of diabetic patients can maintain their vision with early diagnosis, follow-up and timely treatments.
"Since 1976, we have known that laser treatments for diabetic retinopathy with high risk proliferative diabetic retinopathy prevents blindness in 90% of patients," Dr. Maisel explains. "We now have FDA approved medications that not only stabilize diabetic macular edema, but improve vision. Despite these advances, diabetic retinopathy remains the leading cause of visual loss in adults in the 18-65 year age group. Education and yearly screening examinations are necessary to identify patients at risk, since diabetic retinopathy may have no symptoms until fairly advanced."
Event Details
JDRF Long Island Chapter Type One Nation Summit
Date: March 11, 2017, 8:00 am
Cost: FREE
Location: Hilton Long Island/Huntington, 598 Broad Hollow Rd, Melville, NY 11747
About Retina Group of New York
The Retina Group of New York has provided tertiary vitreoretinal care to patients in Nassau and Suffolk Counties since 1986 at its offices in Hicksville and Hauppauge. Both locations are fully equipped with in-office laser capabilities, cutting-edge diagnostic equipment, and integrated electronic records. The group holds staff privileges at eight area hospitals and teaching appointments at the Hofstra Northwell School of Medicine, North Shore University Hospital, and NuHealth Nassau University Medical Center. The practice is limited to medical and surgical retinal problems. These commonly include diabetic retinopathy, macular degeneration, retinal vein occlusion, retinal detachment, macula pucker, macula hole, surgery complications, uveitis, Plaquenil toxicity and second opinions. For more information on the Retina Group of New York, visit http://www.rgony.com or call 516-939-6100 or 631-273-1818 for appointments.
About T1D
Type 1 diabetes (T1D) is an autoimmune disease in which a person's pancreas stops producing insulin, a hormone that enables people to get energy from food. It occurs when the body's immune system attacks and destroys the insulin-producing cells in the pancreas, called beta cells. While its causes are not yet entirely understood, scientists believe that both genetic factors and environmental triggers are involved. Its onset has nothing to do with diet or lifestyle. There is nothing you can do to prevent T1D, and—at present—nothing you can do to get rid of it.
About JDRF
JDRF is the leading global organization funding type 1 diabetes (T1D) research. Our mission is to accelerate life-changing breakthroughs to cure, prevent and treat T1D and its complications. To accomplish this, JDRF has invested more than $2 billion in research funding since inception. JDRF is an organization built on a grassroots model of people connecting in their local communities, collaborating regionally for efficiency and broader fundraising impact, and uniting on a national stage to pool resources, passion, and energy. JDRF collaborates with academic institutions, policymakers, and corporate and industry partners to develop and deliver a pipeline of innovative therapies to people living with T1D. Its staff and volunteers throughout the United States and six international affiliates are dedicated to advocacy, community engagement and a vision of a world without T1D. For more information, please visit jdrf.org or follow on Twitter: @JDRF