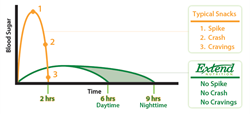 Extend Bars taste good and keep my blood sugars in the normal range… I am never without them.
St. Louis, MO (PRWEB) May 13, 2014
Extend Nutrition is the most-liked diabetic food brand on Facebook, crossing 100,000 likes on the popular social network as of Saturday, May 10th, 2014.
The nutrition company offers innovative snacks created by Dr. Francine Kaufman, a past president of the American Diabetes Association and award-winning endocrinologist. The patented blend of macro-nutrients in each snack helps stabilize blood sugar for 6 to 9 hours.
Extend Nutrition is available in 17 varieties of Bars, Crisps and Shakes, from sugar-free to gluten-free.
The company interacts with millions of people each week via social channels. The shares, likes, retweets, and comments from fans have created multiple viral posts that were seen worldwide.
The popularity of Extend Nutrition's Facebook page is driven by its free healthy recipes, fun and educational content, question and answer interactions, weekly giveaways, and special coupon offers.
The personal approach to brand interaction can also be experienced in person. Extend Nutrition sponsors health fairs in more than 20 major cities to spread awareness.
"It's the customers that remind us all of what is really important about our jobs – and that is helping people live healthier and happier lives," Outreach Manager Jonathan Lindberg said.
From the start, the goal of Extend Nutrition has been to improve the lives of people with diabetes. Extend Bar was originally launched from the kitchen of Dr. Francine Kaufman in the 1990s and started out as a mail-order company.
The long-term success is due to the results people have experienced. "Extend Bars taste good and keep my blood sugars in the normal range… I am never without them," said Barry Kaminsky, a long-time customer.
Today, a full line of snacks is available at the company's website http://www.ExtendBar.com and Extend Nutrition is carried near the pharmacy at major retailers around the world including Walgreens, CVS, Target & Kmart.
The future looks even more promising, Lindberg said. "We have big plans for 2014. We are about to produce our 25 millionth protein bar to date - a nice milestone... There are exciting new flavors in development that will change the way people think about healthy eating and the possibilities for great taste."
+
Invented by Dr. Francine Kaufman, world-renowned endocrinologist and former President of the American Diabetes Association, the patented line of Extend Nutrition Bars, Shakes, Crisps and Drizzles are the only snack foods clinically-proven to help control blood sugar for up to 9 hours. Blood sugar control is the key to diabetes management.
Extend Nutrition snacks have been enthusiastically recommended by thousands of certified diabetes educators, doctors, and registered dietitians around the world for over 10 years.
Extend Nutrition products are available at retailers nationwide, including Walgreens, CVS, Target, Kmart and other leading retailers where diabetes nutrition products are sold.