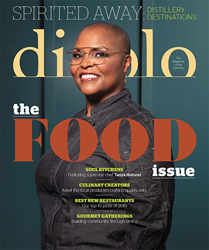 This issue may be one of our biggest ever, brimming with recommendations, in-depth profiles and thoughtful analyses.
WALNUT CREEK, Calif. (PRWEB) November 24, 2019
Diablo magazine's annual November Food Issue highlights the top 10 new San Francisco East Bay restaurants selected by Diablo food editors.
Diablo magazine's food editors identified the 10 best new (launched within the last year) restaurants in the East Bay. Ordered here, from formal to casual: ALBATROSS (Danville) featuring chef Brian Bowen who hails from three-Michelin-star Restaurant at Meadowood; THE SLANTED DOOR (San Ramon) as the jewel of the chic City Center Bishop Ranch, serving the same stylish flair as the acclaimed San Francisco original; BOUNTY HUNTER (Walnut Creek) known for it's barbecue and wine, this offshoot of the Napa original sells some bottles for as much as $1,000; VINEYARD TABLE AND TASTING LOUNGE (Livermore) now with a more casual dining experience and an emphasis on ingredients grown in the Wente garden; TOZAI IZAKAYA (Walnut Creek) patterned after a traditional Japanese community pub; FOB KITCHEN (Oakland) a Filipino-inspired pop-up turned neighborhood restaurant; SIDERACK BAR AND GRILL (Pleasanton) serving classic burgers and adventurous small plates; YIMM (Rockridge) an unfussy Thai addition to Rockridge's restaurant row; 4505 BURGERS AND BBQ (Oakland) known for it's "whole-hog" approach to preparing daily meats; TACOS OSCAR (Oakland) a pop-up turned permanent serving all kinds of tacos, but the veggie tacos are highly recommended.
Deborah Kirk, Editorial Director for Diablo Publications, says "In article after article, we examine what drives the talented chefs, creative food producers, and savvy restaurateurs who call our region home. This issue may be one of our biggest ever, brimming with recommendations, in-depth profiles and thoughtful analyses. Many people contributed to this magazine, but we would like to give a shout out to our dedicated 'food team,' who really made the pages come alive. Food Editor Ethan Fletcher deserves massive props for his efforts and keen insights, as do Senior Food Writer Nicholas Boer and Dish Columnist Clay Kallam."
ABOUT DIABLO MAGAZINE
Celebrating 40 years, Diablo magazine covers topics ranging from travel, culture, and personalities to entertainment, recreation, and food. Diablo magazine is written specifically for the San Francisco East Bay market—from Central Contra Costa, into the Oakland and Berkeley hills, and throughout the Tri-Valley. With award-winning editorial content and beautiful photography, Diablo magazine is a unique celebration of the San Francisco East Bay. Published since 1979, Diablo magazine has been recognized for its editorial and design with numerous awards, including Maggie Awards for Best Overall Publication and Best Regional and State Magazine in the consumer category.
ABOUT DIABLO PUBLICATIONS
Diablo Publications, an employee-owned company, has been creating award-winning publications, including Diablo magazine, Napa Sonoma magazine, Diablo Weddings, Diablo Arts, Concierge Wine Country, Visit Oakland Inspiration Guide, and the Tri-Valley California Visitors Guide. Diablo Publications' custom content division, Diablo Custom Publishing (DCP), provides print and digital marketing communications and custom publishing services for corporate clients nationwide. For more information visit diablomag.com to view our retail publications and dcpubs.com to learn more about custom publishing.