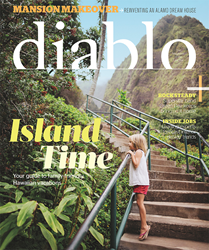 WALNUT CREEK, Calif. (PRWEB) January 25, 2020
Voting for Diablo magazine's 2020 Best of the East Bay winners begins today. Winners will be announced in the annual July "Best of the East Bay" issue.
Voters can weigh in on dozens of topics in many categories, including Art & Leisure, Beauty, Fitness, Food, Kids, Nightlife, Pets, Shops, and Weddings. Diablo magazine will feature the winning businesses in their Annual "Best of the East Bay" issue this July.
Voters who cast at least one vote in each of the 10 categories are entered to win a luxurious stay at the Honua Kai Resort & Spa in Maui. Spread across 38 tropical beachfront acres, Honua Kai Resort & Spa has become one of Kaanapali's most sought-after luxury condominium resorts.
"Best of the East Bay" voting ends on March 31, 2020.
ABOUT DIABLO MAGAZINE
Celebrating 40 years, Diablo magazine covers topics ranging from travel, culture, and personalities to entertainment, recreation, and food. Diablo magazine is written specifically for the San Francisco East Bay market—from Central Contra Costa, into the Oakland and Berkeley hills, and throughout the Tri-Valley. With award-winning editorial content and beautiful photography, Diablo magazine is a unique celebration of the San Francisco East Bay. Published since 1979, Diablo magazine has been recognized for its editorial and design with numerous awards, including Maggie Awards for Best Overall Publication and Best Regional and State Magazine in the consumer category.
ABOUT DIABLO PUBLICATIONS
Diablo Publications, an employee-owned company, has been creating award-winning publications, including Diablo magazine, Napa Sonoma magazine, Diablo Weddings, Diablo Arts, Concierge Wine Country, Visit Oakland Inspiration Guide, and the Tri-Valley California Visitors Guide. Diablo Publications' custom content division, Diablo Custom Publishing (DCP), provides print and digital marketing communications and custom publishing services for corporate clients nationwide. For more information visit diablomag.com to view our retail publications and dcpubs.com to learn more about custom publishing.