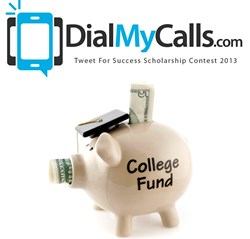 Jupiter, FL (PRWEB) September 26, 2013
Twitter plays an important role in today's society as it is a main source of communication for news agencies and college students alike. DialMyCalls.com utilized the social media platform as inspiration for their first annual Tweet For Success Scholarship Contest. Four $500 scholarships were up for grabs and the company has officially announced the winners.
Over 11,000 students submitted an explanation, in 140 characters or less, of how advances in technology have helped improve the education system. Tweets began flying in to the DialMyCalls staff as soon as the contest kicked off. It was a tough decision and after a few days of heavy debating, the staff have finally picked the winners.
DialMyCalls.com Tweet For Success Scholarship Contest 2013 Winners:
"Advances in technology + Improvements in Education = A World Wide Web of Global Knowledge, & Power at Your Fingertips! #WeAretheJetsons" - Taylor P.
"Living in a tech age, all info is ours. My parents went to the library to look through microfiche; Now we Google, everything! MicroWHAT!?" - Kemo J.
"Technology has enabled students to connect globally, to access data more rapidly, and provides resources to learn more and dig deeper!" - Christianna G.
"with easy access to technology students or doctors can look up words or concepts they are confused about right away." - Ayesha F.
Successful is an understatement when it comes to the first annual DialMyCalls.com Tweet For Success Scholarship Contest – the turnout was absolutely amazing and winning $500 was as easy as submitting a tweet that contained 140 characters or less.
DialMyCalls looks forward to offering another scholarship contest in the future and congratulations are in order for all of the winners listed above.
About DialMyCalls
DialMyCalls.com has been a highly rated provider in the voice broadcasting industry since 2006. The company offers a school notification system that is used by educational leaders, parents and students all across the United States. The company is proud to have had the chance to give four college students a $500 scholarship.
For more information, please visit http://www.dialmycalls.com or call (800) 928-2086. You can also email tsmith(at)ontimetelecom(dot)com for additional information or LIKE DialMyCalls on Facebook.