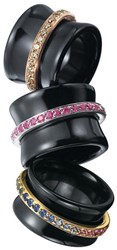 San Francisco, CA (PRWEB) September 23, 2013
Union Street Goldsmith is pleased to announce they are now offering new designs by Etienne Perret, from his Ceramique Collection. These designs join Union Street Goldsmith's always growing collection of beautiful and unique pieces.
The Ceramique Collection is also a growing entity. Perret is designing more and more pieces for the collection, which features gem ceramic tension rings set with gemstones.
Despite the challenges of setting gemstones in gem ceramic rings, Perret has worked hard and found a way to bring these two pieces together to create innovative styles. Gem ceramic rings are made from zirconia ceramic, a specific kind mined from the zircon sands of Australia. This material is versatile, durable and nearly as hard as a sapphire.
Union Street Goldsmith now has Ceramique diamond tension rings in a number of designs. Saturn rings are also available with diamonds or sapphires in a vibrant range of colors. These dramatic rings are every-day-wearable and a perfect complement to any style.
To view the collection, visit Union Street Goldsmith at their location at 1909 Union Street, San Francisco, CA 94123.
About the company:
Glenda Queen, with a background in arts and crafts, entered the jewelry business in 1964. After 11 years making jewelry at McLeans in Sausalito, she and her present partner Terry Brumbaugh, opened Union Street Goldsmith. Glenda chose a neighborhood she hoped would be a comfortable setting for her craftsmen as well as her clients and it worked. Terry Brumbaugh, raised in the jewelry business, later became a Gemologist. After an extensive period of travel, he joined with Glenda to head up the Union Street Goldsmith sales staff. Terry has a rare gift for his memory of client's collections, enabling him to design new pieces to fit his clients' special tastes and their collections. An excellent sense of style and fashion endows Terry with the ability to give valuable guidance to his clients in their jewelry selection, helping each one to create an overall special look within their collection. Union Street Goldsmith is the ideal place to find custom jewelry, engagement rings or diamond rings. For more information and to preview their collection, please visit their website, http://www.unionstreetgoldsmith.com.