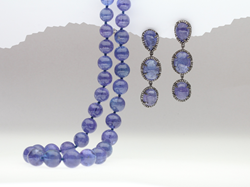 San Francisco, CA (PRWEB) June 23, 2014
Union Street Goldsmith recently returned from a trip to Las Vegas where they attended the JCK Las Vegas Gem & Jewelry Show. They have brought back a large collection of new designs, loose colored stones and gemstone beads.
The JCK Show is an annual event and one of the biggest gem and jewelry shows in the world. It is the leading jewelry event in North America open to all jewelry professionals. Each year, the industry gathers to view the latest awe-inspiring domestic and international designs and most sought after trends.
Union Street Goldsmith came back from the show with very fine gemstone beads, including garnet and tanzanite. They also picked up new pieces from the collection of Lika Bahr. In addition to finding beautiful new designers, the jewelry store brought back gorgeous new pieces from longtime favorites Gurhan and Dilamani Designs.
Right now, Union Street Goldsmith is featuring a beautiful new collection of blackened silver jewelry set with a variety of gemstones, including pave champagne diamonds and cabochon-cut tanzanite. They also have an amazing new collection of Kurtulan jewelry, which is a must-see.
Union Street Goldsmith is committed to keeping up with the latest fashions and always offers new and exciting gems and jewelry designs. To learn more about their recent trip, call 415-776-8048 or visit http://www.unionstreetgoldsmith.com/.
About the company:
Glenda Queen, with a background in arts and crafts, entered the jewelry business in 1964. After 11 years of making jewelry at McLeans in Sausalito, she and her present partner, Terry Brumbaugh, opened Union Street Goldsmith. Queen chose a neighborhood she hoped would be a comfortable setting for her craftsmen as well as her clients and it worked. Brumbaugh, raised in the jewelry business, later became a gemologist. After an extensive period of travel, he joined with Queen to head up the Union Street Goldsmith sales staff. Brumbaugh has a rare gift in his memory of client's collections, enabling him to design new pieces to fit his clients' special tastes and their collections. An excellent sense of style and fashion endows Brumbaugh with the ability to give valuable guidance to his clients in their jewelry selection, helping each one to create an overall special look within their collection.