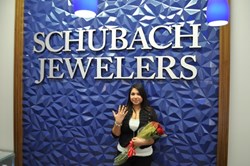 I'm still in shock! I'm so happy! This is a Christmas present I will never, ever forget!
Austin, TX (PRWEB) January 07, 2014
During the month of October, Samuels Jewelers Inc., launched a pre-holiday contest that generated excitement throughout the communities we serve. Visitors to Samuels Jewelers, along with those who visited other members of their extensive family of jewelry stores: Andrews Jewelers, Rogers Jewelers, Samuels Diamonds and Schubach Jewelers – could also register to win a white gold five-carat diamond solitaire ring.
There were over 20,000 entries throughout our more than 100 fine jewelry stores across the country from those who hoped to be the lucky winner of the once-in-a-lifetime prize, a 5.20 carat diamond solitaire ring. The winning entry, drawn in December, was Aleecia M., who entered the contest at the Schubach Jewelers store in West Valley Mall located in West Valley, Utah.
"I'm still in shock! I'm so happy!" Aleecia exclaimed, as she put the ring on her finger immediately. "This is a Christmas present I will never, ever forget!" Aleecia was extremely happy with her prize, smiling as she wore it out of the store the day she redeemed it.
"Aleecia's gratitude supports my belief that we are lucky to have the opportunity to do what we do, providing the ultimate dream to our guests – diamonds," said Mike Feinman, Chief Operating Officer. "The best part was that there were no losers in this contest. Each entrant received a special offer for up to $100 off their next purchase by e mail.
About Samuels Jewelers:
For over 120 years, Samuels has helped over a million brides and grooms select the perfect rings from collections such as the Vow to Wow loose diamond and setting collection, which allows the guests to create the ring of their dreams. They can also choose from the exclusive Brilliant Fire proprietary faceted diamond or a stunning look from the NK Collection. There are hundreds of styles to choose from at our family of fine jewelry stores, offering exceptional value to exotic collections. Brides and grooms are sure to find the rings that cater to their individual personal style.