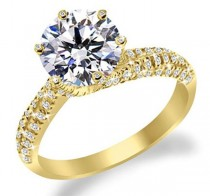 While the average consumer may miss something that could increase or decrease the value of a diamond, the experts at the GIA leave no stone unturned.
Los Angeles, CA (PRWEB) June 10, 2015
According to a report on gold demand trends released by the World Gold Council on May 14th, the demand for gold jewelry in the United States in the first quarter of 2015 grew for the fourth quarter in a row. It was shown that the current market demand for gold jewelry was at 22.4 tons, a little more than 4 percent higher than where it was a year prior. "In times like these, shoppers should be aware of the conventional economic wisdom that, when demand rises, retailers will often raise prices to assure the supply does not fall behind. This means that customers are at risk of being taken advantage of by retailers who may raise their prices more than they must to meet demand." says LA-based Diamond Forever Jewelry. "Because we value transparency in addition to quality, customers can be more comfortable knowing that they are getting a fair deal when they shop with us." In addition, Diamond Forever Jewelry supplied three tips that buyers can abide by to ensure they are getting a fair price during this time of increased demand:

"Browse Ahead" – These days, smart shoppers know that most products are available for viewing online before they walk into the physical store. This gives shoppers the power to compare prices before they are physically in the store, feeling pressured to make a purchase. Diamond Forever Jewelry allows customers to browse their diamond engagement ring collection online "so that they have a better idea of what they are looking for when they walk into the store."
"Look For Deals" – "Nobody wants to skimp on the quality of jewelry that they buy for themselves and their loved ones, but there is nothing wrong with getting a great deal on an outstanding piece of jewelry." At Diamond Forever Jewelry, customers can nearly always find certain items with steep discounts off of the appraised value of the piece. Currently, many of the pieces in their eternity band collection can be purchased for 50 percent off the value of the appraisal.
"Buy GIA Certified" – While appraisal values are important to many shoppers, the most diligent bargain hunters often crave further evidence of a good deal. One way that they can get this is by purchasing jewelry made with GIA diamonds. Each GIA diamond is independently certified by an expert at the Gemological Institute of America and assigned a rating based on a variety of characteristics. "While the average consumer may miss something that could increase or decrease the value of a diamond, the experts at the GIA leave no stone unturned."
According to Diamond Forever Jewelry, these strategies are important for all jewelry shoppers, but are especially important now that the demand for jewelry is high. Anyone interested in the options, prices, and the quality of gold and diamond jewelry available at Diamond Forever Jewelry can call them at 888-316-0290, or visit the retailer's web site at http://www.DiamondForeverJewelry.com.