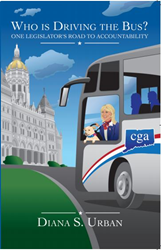 'Thank you to Diana Urban for telling the true story of trying to move a Bureaucracy to Results-Based Accountability. You will laugh, you will cry, but if you have ever been in these shoes, you will totally relate.' -- Denise Merrill, CT Secretary of State
North Stonington, Connecticut (PRWEB) November 24, 2014
Connecticut State Representative Diana Urban, popular children's advocate and Governing Magazine's 2010 Public Official of the Year, has just released her debut memoir Who Is Driving the Bus?—an account of her fight to bring accountability and transparency to the Connecticut State Legislature through the adoption of the Results-Based Accountability planning, budgeting and management framework.
Earlier this month, Results Leadership Group—which is the book's publisher—released Who is Driving the Bus? for sale. The book is currently available for purchase at Resultsleadership.org for $13.95 and Amazon.com for $13.46. Results Leadership Group is the world's leading Results-Based Accountability consulting firm and developers of the Results Scorecard performance management software.
In Who is Driving the Bus?, Urban takes readers on her journey to accountability starting with her freshman year in the Connecticut State House of Representatives in 2001 and ending with the development and implementation of the Connecticut Kids Report Card—a law that requires every children's program in the state to report whether its funding is yielding measurable results.
Drawing on the title, Urban argues that our elected officials should, much like bus drivers, be expected to drive us safely towards the desired destinations (or end results) we want for individuals and communities--destinations like "a safe environment" or "children ready for school." We can get there, says Urban, by taking an ends-to-means approach, which is an underlying principle of Results-Based Accountability.
More than just a "how to" guide on implementing Results-Based Accountability, Who is Driving the Bus? takes an unapologetic look at what Urban describes as a broken "incremental budgeting" system in many state governments—systems whereby new programs are added to a budget base year after year without any follow-up performance evaluation. Sharing her goals early on, Urban states that the book is "meant to serve as inspiration and a call to action for legislators who want to find a way not to merely ride the bus, but to drive the bus and steer public budgeting processes to increase transparency, drive continuous improvement initiatives, and ultimately, increase the wellbeing of citizens."
Urban, who has run unopposed as both a Republican and a Democrat, was just elected for her eighth term representing Connecticut's 43rd Assembly District. Currently, she serves as Chair of the Committee on Children, as well as Co-Chair of the Results-Based Accountability Subcommittee of the Appropriations Committee. In addition to being recognized by Governing Magazine, Urban has also been named Legislator of the Year four times by the Humane Society and a Children's Champion by the Connecticut Early Childhood Alliance for four years. Prior to public service, Urban taught economics for over twenty years.