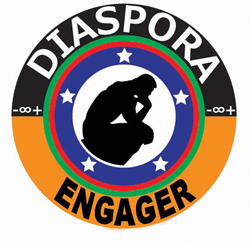 With the increasing rise of crises, wars, and catastrophic events around the globe, human migration will keep growing and its corresponding problems will get worse if appropriate actions are not taken now. DiasporaEngager will definitively help.
Saint Louis, Missouri (USA) (PRWEB) May 14, 2014
DiasporaEngager (http://www.DiasporaEngager.com) is pleased to announce the launch of the global diaspora platform that strategically connects diasporas with one another and with organizations to build effective networking, job placement, consulting, capacity building, and other sources of professional development. The website allows international diaspora to transfer resources, services, and skilled labor amongst people, organizations, and nations. Since most people's lineage can be traced to a foreign nation, DiasporaEngager's services can be used by anyone who wishes to network with other professionals and to build a sustaining career or business market.
To begin using DiasporaEngager, a user can simply register a free account at (http://www.DiasporaEngager.com/miniRegister). Inside the account, users can create a profile reflecting their competency, needs, and marketable skills. Users can post needs/offers and search for opportunities. The search tool makes it easy for users to find opportunities that match their specified requirements locally or worldwide.
DiasporaEngager assists the global diaspora network with finding opportunities in government agencies and educational institutions. Students can use the platform to connect with professors, students, and counselors, vice versa, in order to find scholarships, grants, study abroad programs, and mentors that will help them attain an affordable education and better compete on the global job market. Scientists who are looking for research grants, publishing, investment, technology, collaborators or partners can do so through this specialized social media website.
Additionally, anyone who is seeking to build business partnerships and to grow a healthy career in any country will find that DiasporaEngager is a useful and pragmatic tool for finding recruiters and other people with an entrepreneurial and professional mindset. In addition, salespeople can use the site to attract more customers, while consumers can also locate and purchase commodities. Registered users get free tools to find and engage with local and global philanthropic donations, including directly giving and/or receiving goods/services to or from others. Unemployed people receive free tips to get a job, start a new business, or solve their unemployment needs. This global resource site also helps with local and international volunteering opportunities. More information about the services provided to customers after registering an account with DiasporaEngager can be found at the links below:
DiasporaEngager.com/extPage/Business
DiasporaEngager.com/extPage/GovernmentalAgency
DiasporaEngager.com/extPage/SchoolOrEducationalInstitution
DiasporaEngager.com/extPage/ResearchCollaborationGrant
DiasporaEngager.com/extPage/Recruiting
DiasporaEngager.com/extPage/ImmigrantDiasporaMembers
DiasporaEngager.com/extPage/Volunteer
"The diasporas are oftentimes unknown by organizations that help them succeed, vice versa. This global problem impoverishes nations and deprives institutions from reaching most of their potential market, clients, and customers. With the increasing rise of crises, wars, and catastrophic events around the globe, human migration will keep growing and its corresponding problems will get worse if appropriate actions are not taken now. To solve this problem, a global system must be built where the diaspora, the people and organizations in their country of origin and in their host country can work together to help each other mutually. DiasporaEngager was created to help solve this problem," says Dr. Roland Holou, founder of DiasporaEngager.
Other areas of interest of DiasporaEngager include: advocacy for development, benchmarking, civil and human rights, cultural issues, dating, democracy, diplomacy, migrations policies strategies, governance, hobbies and games, innovation, international affairs, investment, labor issues, legal services, lobbying, marketing, policy development, refugee services, spirituality, technology, town twinning, and much more.
To register an account for yourself and/or for your organization to start using the International Diaspora Engagement Platform today go to DiasporaEngager.com/miniRegister.
In addition to the platform, sign up for DiasporaEngager newsletter at DiasporaEngager.com/Newsletter and start receiving updates and opportunities from the global diaspora.
Connect with DiasporaEngager at:
DiasporasNews.com
plus.google.com/+DiasporaEngager
Twitter.com/DiasporaEngager
Facebook.com/DiasporaEngager
Linkedin.com/company/DiasporaEngager
About DiasporaEngager's Founder:
DiasporaEngager was founded by Dr. Roland Holou, a dual citizen of the US and Benin Republic. Prior to founding this company, Roland worked as a Plant Biotechnology Research Scientist in the USA. He also chaired several international organizations. Roland authored several books related to leadership, education, development, politics, sociology, and economics. He is available for interviews, conferences, and consultations related to his expertise, including diaspora engagement and brain drain management.
Press Contact:
Roland Holou, Ph.D.
DiasporaEngager
5636 Telegraph Rd #510231
St. Louis, MO. 63129
Pr(at)DiasporaEngager(dot)com
http://www.DiasporaEngager.com