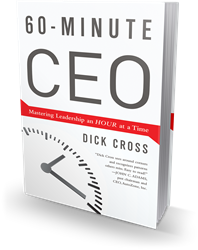 Running a business the 60-Minute way is deeply satisfying, for you and for everyone your business touches.
Boston, MA (PRWEB) April 15, 2014
Bibliomotion, books + media is pleased to announce the release of 60-Minute CEO: Mastering Leadership an Hour at a Time by Dick Cross. This is Dick's second book published with Bibliomotion (Just Run It!: Running an Exceptional Business Is Easier Than You Think was published in April 2012). Bibliomotion is thrilled to have the opportunity to work with Dick again on his latest endeavor.
In an interview with Bibliomotion, Dick Cross shares his fast, simple, and fun approach to mastering leadership an hour at a time.
What inspired you to write 60-Minute CEO?
60-Minute CEO arose almost on its own out of nine, "hands-on" assignments as a turnaround CEO and over one hundred advisory assignments to help other CEO's make their businesses better. Along these two tracks, a fractious approach to the Job at the Top unfolded for me. That's worked every time. That's simple and fun. And that no one else talks about –not in the business press, business schools, keynotes, or seminars.
My predecessor book, Just Run It! introduced the thought-models that form its underpinnings. This book shifts to the more personal attributes of how one handles him or herself in the Job at the Top to bring out its full effectiveness. Running a business the 60-Minute way is deeply satisfying, for you and for everyone your business touches. And it takes far less time, far less angst, and is far more fun than most people would ever imagine.
What was your favorite part of the writing and publishing process?
Writing about running businesses is a flow-state kind of experience for me. It's not work at all. It just happens. Real-life experiences simply stream out and onto a keyboard in an exhilarating process that materializes something, which you know in your heart is truth, into something else that you hope might have a better chance of adding meaningfully to the lives of others. I think most of us have things in our lives that displace our consciousness of time and place when we engage in them. Things that drive a maniacal zeal to get something done. Because we think they are important. And leave us exhausted, but smiling, when they're done. Writing 60-Minute CEO was exactly like that for me.
Who do hope reads your book? What do you want them to get from it?
It's my aspiration that anyone running or seeking to run a business considers spending a few hours with the book. The first few chapters lay out the premises for a simple, effective and joyful way to approach a Job at the Top. Subsequent chapters are vignettes that elaborate on the central theme and center on how to apply it in particular circumstances. After the first sections, a reader can consume short chapters that elaborate broadly on the central idea, or find one or two that apply most closely to a particular situation at hand, in order to get on a fresh and engaging path for a lifetime of fascination with running businesses.
Who was your #1 influencer for your work?
It's all the people who work in businesses that aren't particularly well run. People whose lives would be so much better if the Job at the Top simply were done better. These people deserve more, as does the person in charge. All deserve more inspiration, more optimism, more satisfaction and deeper joy from their lives at work. It's not hard to achieve, but it has to start at the top.
What are you reading right now?
Right now I'm reading mostly about how to reach, really reach the people we care about – in our businesses, our families, and in the communities we are a part of and serve:
-The End of Business as Usual, by Brian Solis
-There is No B2B or B2C: It's Human to Human: #H2H, by Bryan Kramer
-Humanize: How People-Centric Organizations Succeed in a Social World, by Jamie Notter & Maddie Grant
About 60-Minute CEO:
Looking toward the C-suite? Take heed. Author and serial CEO Dick Cross pulls back the curtain on this top leadership role, explaining in his new book that being a successful leader, running a business, and doing it extraordinarily well isn't a full-time job. In 60-Minute CEO: The Fast Track to Top Leadership, Cross makes the case that the single greatest determinant of business success revolves around the job at the top. Cross suggests that the most important, and often overlooked, duty for a CEO is thinking about how to improve his or her business and how to be a leader. Cross also reveals that a mediocre leader can be transformed into an exemplary one simply by refining two key things: thinking and character. In Cross's trademark conversational style, he conveys why strategy and execution, while important, should take a back seat to authenticity and responsibility, and that the essential elements of the CEO role can be accomplished in several 60-minute sessions every week. Executives may fill their time with other tasks, but leading and running a company requires explicit skills different from those needed for any other corporate position.
The good news is that those skills are easy to learn, fun to do, and not time-consuming. In an entertaining style, Cross offers executives the fast track to the top leadership position. And while 60 minutes may seem like a quick fix, as Cross sees it, three 60-minute sessions a week devoted solely to considering your business and your role as leader are crucial to business and leadership success.
In 60-Minute CEO, Dick Cross brings over 25 years of experience of transforming companies in various stages of underperformance into industry powerhouses. Cross combines his knowledge and experience with the stories and lessons of preeminent leaders and thinkers including General George Patton and Seattle Seahawks quarterback Russell Wilson.
About Dick Cross:
Dick Cross has worked with underperforming companies for more than 25 years, helping mainstream businesses achieve their next level of success. Dick has been the Chairman, CEO, or President at nine of those companies, and has mentored more than 100 CEOs at others. Much of his career has been spent in private equity circles, including Fenway Partners, and he currently serves on the board of numerous corporate, philanthropic, and civic organizations.
On the lecture circuit, Dick is an enthusiastic, colorful, and engaging speaker, who greatly enjoys conveying the story behind every business. He holds a degree in Architecture from the University of Virginia and a Masters of Science in Business from Columbia University. He and his wife split the year between Concord, Massachusetts, and Gloucester Point, Virginia. Dick is the author of Just Run It!: Running an Exceptional Business is Easier Than You Think (Bibliomotion 2012).
About Bibliomotion, books + media:
Bibliomotion is a book publishing house designed for the new publishing landscape. While many publishers work to retrofit old processes for new realities, Bibliomotion was founded by book-industry veterans who believe the best approach is a fresh one – one that focuses on empowering authors and serving readers above all else. Moving away from the top-down model that has dominated the publishing process for years, we give each member of the team – including the author – a seat at the table from the very beginning and in doing so, work side-by-side to launch and sell the best content possible, making it available in a variety of forms.