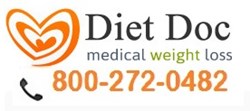 Diet Doc has been successful in helping thousands of Americans improve their health by losing unhealthy, unwanted and embarrassing excess fat by providing diet plans that are specific to each patient's personal needs
San Diego, CA (PRWEB) November 27, 2013
Due to the popularity among patients of Diet Doc's informative website, the company is excited to introduce their new diet newsletter. This monthly publication is available to all clients, free of charge, and will be sent directly to each patient's email account. To show their appreciation, all patients will receive a 10% savings coupon toward any future orders simply for signing up for the free diet newsletter. This diet newsletter is sure to be a success and is chock full of delicious diet recipes and healthy meal planning tips and shortcuts that the entire family will enjoy, as well as informative articles geared toward helping everyone improve their health.
To make the publication even more interesting, the company invites clients to feel free to offer their own personal contribution to the diet newsletter. Diet Doc looks forward to fast weight loss tips, ideas, recipes and, of course, success stories, that can offer encouragement to fellow dieters and help to make their life changing weight loss journey more comfortable.
For the first time, Diet Doc's nurses, physicians and certified nutritionists have joined together to produce educational and motivational material for their clients each month. Physicians and nurses have contributed their expertise on the causes of weight gain along with information on the most effective diet pills to lose weight, supplements to burn fat and treatments to control the appetite. Because Diet Doc physicians and nurses understand that their clients may not have a health background or previous medical training, they have included suggestions and guidance for how to lose weight the best way for different body types as well as various methods and treatments that are appropriate for extreme weight loss.
Diet Doc's certified nutritionists have included information on the best foods to eat when trying to lose weight, especially foods that naturally encourage the body to burn excess, stored body fat for fuel. Unlike other diet plans that encourage their clients to eat bland, flavorless diet foods, these nutritionists choose delicious, vibrant foods that not only encourage the patient to lose weight, they also leave them feeling satisfied and full of energy. Signing up for the monthly diet newsletter and receiving 10% off coupons is just an added bonus to the recipes and food recommendations patients will appreciate reading each month.
Diet Doc has been successful in helping thousands of Americans improve their health by losing unhealthy, unwanted and embarrassing excess fat by providing diet plans that are specific to each patient's personal needs, prescription hormone treatments that are manufactured in their own fully licensed, U.S. based pharmacies, and a level of personal service that is unparalleled by competitors. The company places patient safety and comfort first and is consistently searching for new and innovative ideas, methods and techniques to help patients achieve rapid, safe and successful weight loss.
To sign up for the informative Diet Doc monthly diet newsletter, simply click here:
To stay in the know by signing up for Diet Doc's free diet newsletter today and receive a 10% appreciation discount toward any diet product purchase.
Diet Doc Contact Information:
San Diego, CA
(800) 272-0482
Weight-loss(at)Dietdoc(dot)info
http://doctorsupervisedweightloss.com/testimonials.php
Twitter: DietDoc10
Facebook: DietDocNaturalHealth