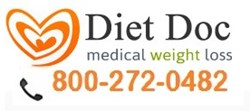 Diet Doc understands that eliminating excess and embarrassing body fat begins with a diet change and hired the most experienced weight loss professionals to create diet plans that are easy to follow
Atlanta, GA (PRWEB) July 30, 2013
Eliminating unhealthy foods from a diet plan can leave people in Atlanta missing the foods that they love to eat, but a new study suggests that adding even a small amount of herbs and spices to low-calorie meals could make these foods more appetizing to those trying to reduce their body fat. Diet Doc understands that following a clean eating diet is more enjoyable to their clients when the food recipes included with the diet are satisfying to taste buds and created their clean eating diet to incorporate many herbs and spices so patients don't miss the high-calorie meals they have grown accustomed to.
This new study, reported on by Medical News Today, performed by researchers with the University of Colorado, proposes that providing subjects with a clean eating diet and food recipes that substitute unhealthy fats with easily accessible herbs and spices may ultimately help Americans cut down on body fat by choosing food recipes more in line with the recommended dietary guidelines. In their study group of 150 subjects, participants were asked to taste a meal that contained full fat and one that was reduced fat but enhanced with herbs and spices such as onion, oregano, paprika and garlic. The results showed that adding herbs and spices to the low-fat food recipes was enough for study subjects to rate the clean eating diet at the same level as the full fat version. Diet Doc's team of highly trained physicians, nurses and certified nutritionists work diligently to create personalized clean eating diets for each individual patient so that their transition to a healthier, slimmer figure is filled with food recipes that satisfy the patient while still allowing them to lose weight and reduce body fat.
Because Diet Doc's diet plans are developed around each patient's individual needs including their age, healthy history, lifestyle choices and food preferences, patients will learn how to create food recipes that satisfy their palate but are still low in sugars, fats and calories. Patients will work closely with Diet Doc's certified nutritionists to learn how to construct a clean eating diet that tastes good and still provides them with the energy and fuel they need to make it through the day. Diet Doc understands that eliminating excess and embarrassing body fat begins with a diet change and hired the most experienced weight loss professionals to create diet plans that are easy to follow and allow patients to reduce body fat without struggling with uncontrollable hunger and cravings.
To encourage patients to make healthy meals, Diet Doc also offers patients in Atlanta suggested food recipes in a specially created cookbook with over fifty pages of meal plans just for Diet Doc patients. These recipes include recommended herb and spice pairings for various foods to make them appetizing so that patients will not miss the unhealthy fats they have grown accustomed to. Diet Doc is committed to helping each patient reduce their overall body fat and quickly lose weight with their unique protocol specially created for diet plans.
Diet Doc Contact Information:
San Diego, CA
(800) 272-0482
Weight-loss(at)Dietdoc(dot)info
http://doctorsupervisedweightloss.com/
Twitter: DietDoc10
Facebook: DietDochcg