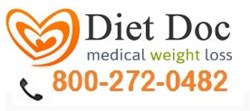 With the use of Skype and other internet applications, patients in Atlanta Georgia, or even the most remote areas of the country have the opportunity to change their lives, avoid the risk of weight-related disease and maintain a healthy hormone balance
Atlanta, GA (PRWEB) August 06, 2013
The body's hormones play a key role in one's ability to maintain a healthy weight, as well as the ability to lose unwanted pounds. Responsible for regulating many bodily functions, hormones are chemical messengers that, when out of balance, can play havoc on one's physical and emotional wellbeing. Since fat cells can generate estrogen in the body, obesity plays a major role in hormonal balance. Just as a hormone imbalance can result in unwanted weight gain, this same imbalance can also result in the body's inability to lose that unwanted excess weight. The path to maintaining a healthy hormone balance to maintain healthy long term weight goals can be a slippery slope. Under professional direction, including Diet Doc's new medically supervised weight loss plans, this healthy weight and hormone balance can be obtained and maintained long term.
The professionals at Diet Doc are paving the way to a new and exciting approach to weight loss using carefully researched prescription and non-prescription medication to enhance the effectiveness of the company's medically supervised weight loss diets, which when coupled with nutritious diet plans, has the ability to trigger the body to release years of old, stored and trapped fat into the bloodstream to be used as energy, while resetting the metabolism, suppressing the appetite, and preventing muscle loss during dieting.
Patients receive a complimentary extensive, yet quite simple, physician consultation. Based on the information collected, certified nutritionists will design custom diet plans that are distinct to each patient's individual nutritional, medical, and dietary needs and goals. These uniquely designed diet plans incorporate hormone friendly foods, green leafy vegetables, lean proteins, healthy fats and essential fibers to help maintain an adequate hormone balance while losing unwanted and unhealthy excess fat.
Because the Diet Doc diet plans do not rely on complex carbohydrates, such as breads and pasta, the body is forced to rely on the simple carbohydrates that are easily converted to energy. Prescription medication can be introduced to be used in combination with the nutrient rich diet plans and is typically administered once daily under medical supervision. Available to qualified patients by prescription only in three convenient and easy to use varieties, the most preferred method among patients is painless injectable solution, although others may prefer sublingual tablets or oral drops. Regardless of the method of delivery, patients that follow the Diet Doc diet plan are losing weight rapidly and looking and feeling better than ever before.
Diet Doc offers incomparable services to dieters across the country, delivering a consistent effective prescription diet plan directly to patients' doors. The company's in-house medical weight loss experts guide every patient through their personal health journey by altering diet plans if results begin to taper. Each patient receives a weekly checkup call to assess progress, attitude, and comfort level, among other factors. Diet Doc patients are never alone in the quest to improve health with fast weight loss. The team of dedicated and compassionate professionals is available 6 days per week for consultation and eager to lend unlimited support, guidance and encouragement.
With the use of Skype and other internet applications, patients in Atlanta Georgia, or even the most remote areas of the country have the opportunity to change their lives, avoid the risk of weight-related disease and maintain a healthy hormone balance with natural, safe, healthy and fast weight loss. Diet Doc urges those who need to lose only 10 pounds, to those who must lose much more, to contact the company today to schedule a free and confidential consultation.
Diet Doc Contact Information:
San Diego, CA
(800) 272-0482
Weight-loss(at)Dietdoc(dot)info
http://doctorsupervisedweightloss.com/
Twitter: DietDoc10
Facebook: DietDochcg